AMM2414300000 AMMO by Mig/Torro Solutions Box - WW2 German Tanks Color and Weathering System
SKU:

AMM2414300000

UPC:

4250229627830

MPN:

2414300000

Scale:

Not Applicable
Frequently bought together:
Description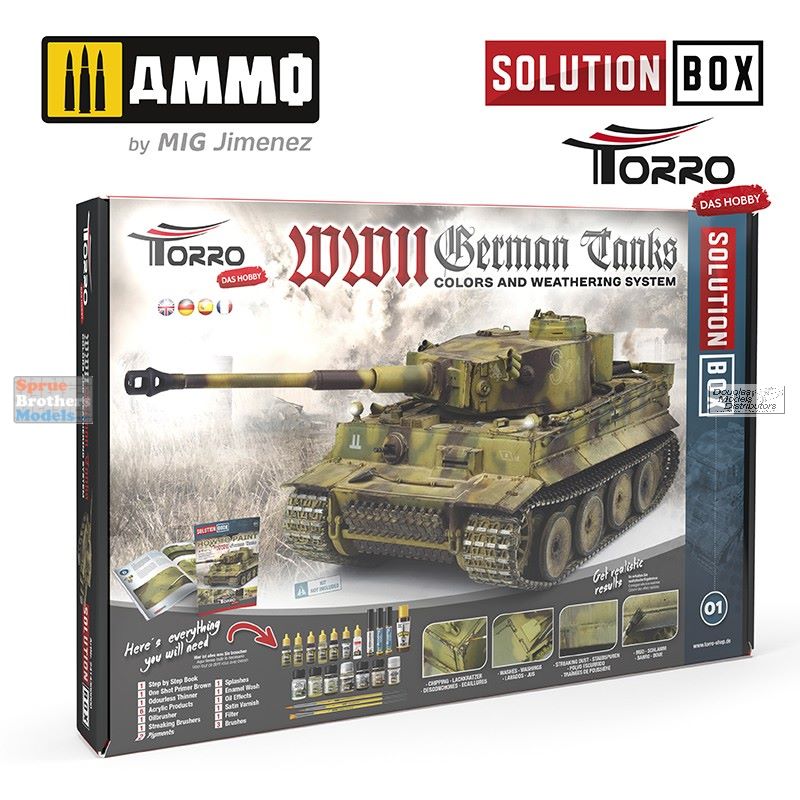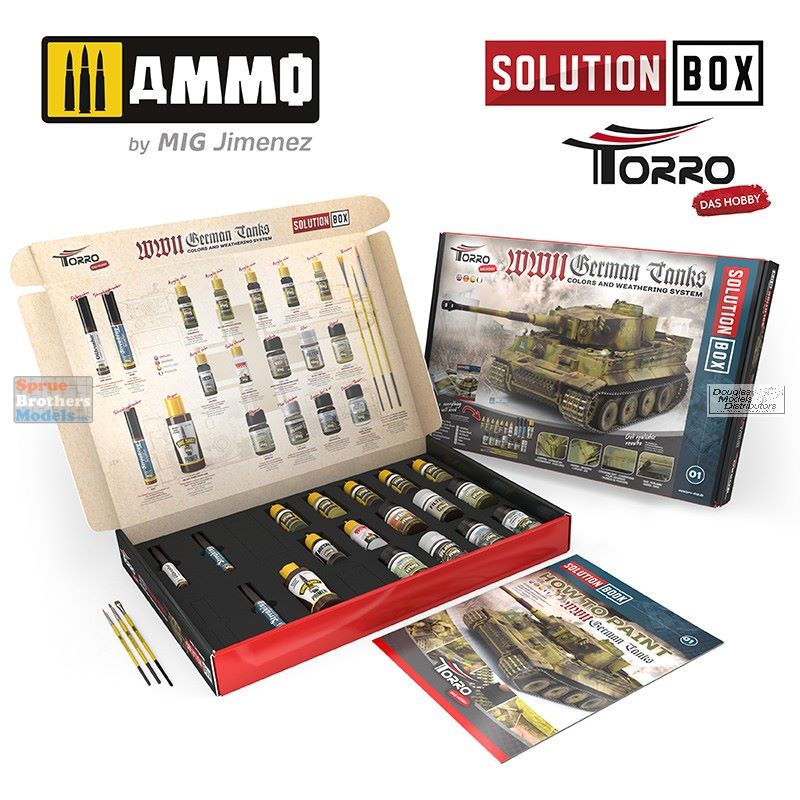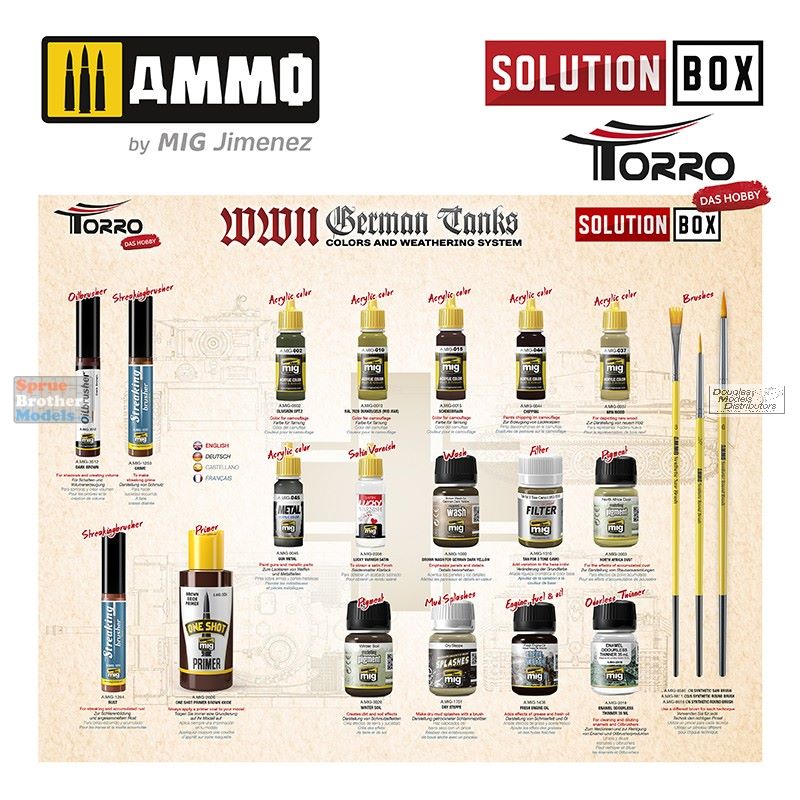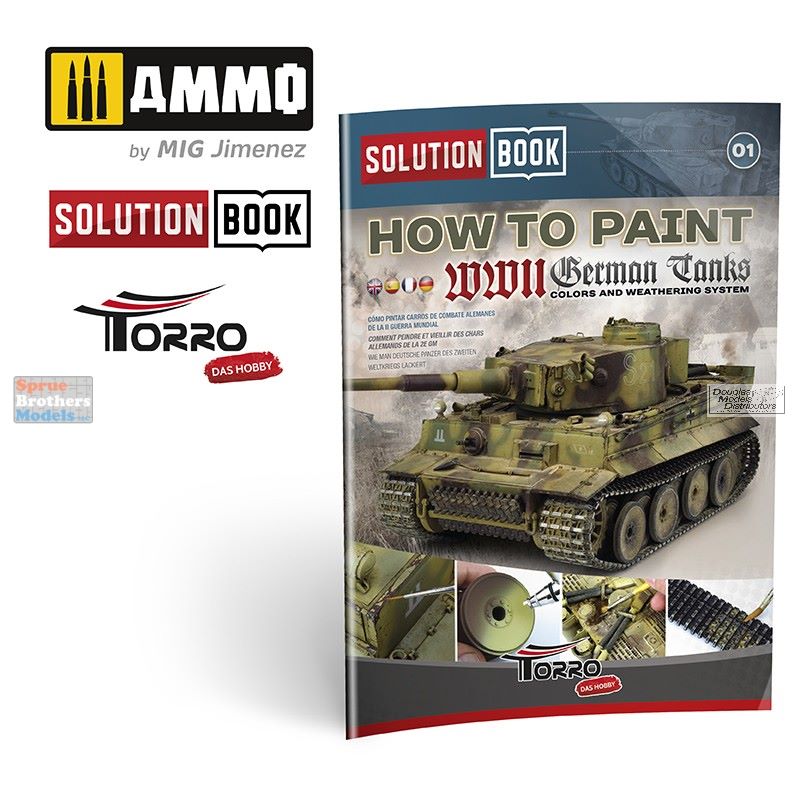 SOLUTION BOX is a simple and comprehensive system providing you with everything required to paint and weather your German vehicles of the second half of WWII.
This includes both the application of the primer layer and the camouflage colours, as well as the different painting and weathering effects, including products and colours for filters, washes, fading and highlights with oils, streaking, dust, and grease and oil stains.
You will not only find the required paints, weathering products, and brushes, also included is the valuable resource Solution Book 241430001 How to paint WWII German Tanks with instructional texts in four languages (English, Spanish, French and German). This is a complete and easy-to-follow 67-page guide that explains step-by-step how to apply the most common effects on German military vehicles.
This new German Late WWII Solution Box is a collaboration between TORRO, the renowned producer of RC vehicles, and AMMO to create a step-by-step guide that explains how to apply each effect to any late war German vehicle.
Includes the colours:
AMM2018 Enamel Odourless Thinner (35mL)
AMM2026 ONE SHOT PRIMER Brown Oxide Primer
AMM3512 OILBRUSHER Dark Brown
AMM1253 STREAKINGBRUSHER Grime
AMM1254 STREAKINGBRUSHER Rust
AMM0002 ACRYLIC COLOR RAL 6003 Olivgrün Opt. 2
AMM0010 ACRYLIC COLOR RAL 7028 Dunkelgelb (Mid War)
AMM0015 ACRYLIC COLOR RAL 8017 Schokobraun
AMM0044 ACRYLIC COLOR Chipping
AMM0037 ACRYLIC COLOR New Wood
AMM0045 METALLIC Gun Metal
AMM2056 LUCKY VARNISH Satin (17mL)
AMM1751 SPLASHES Dry Steppe
AMM1000 Brown WASH for German Dark Yellow
AMM3003 PIGMENT North Africa Dust
AMM3029 PIGMENT Winter Soil
AMM1510 FILTER Tan for 3 Tone Camo
AMM1408 Fresh Engine Oil EFFECTS
AMM8585 8 Synthetic Saw Brush
AMM8611 3/0 Synthetic Round Brush
AMM8616 6 Synthetic Round Brush
241430001 How to paint WWII German Tanks - Solution Book
View All
Close