AOA32011 1:32 AOA Decals - USN/USMC A-4E Skyhawks in the Vietnam War 'Combat Scooters' Part 2
SKU:

AOA32011

UPC:

MPN:

32011

Scale:

1/32

Subject:

A-4 Skyhawk
Frequently bought together:
Description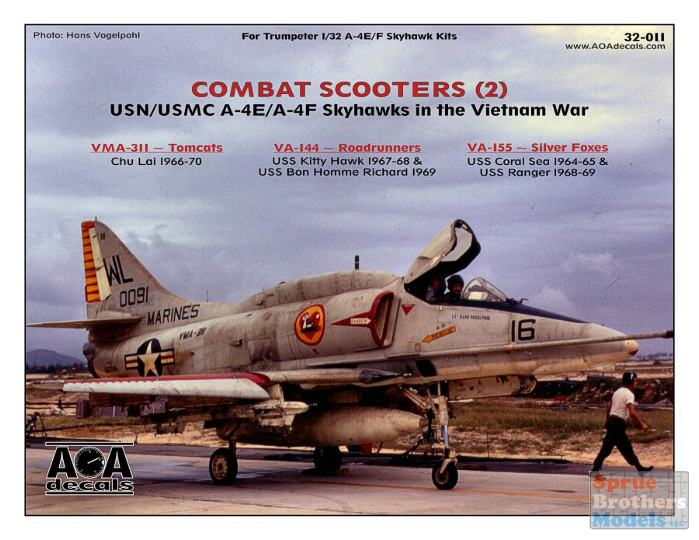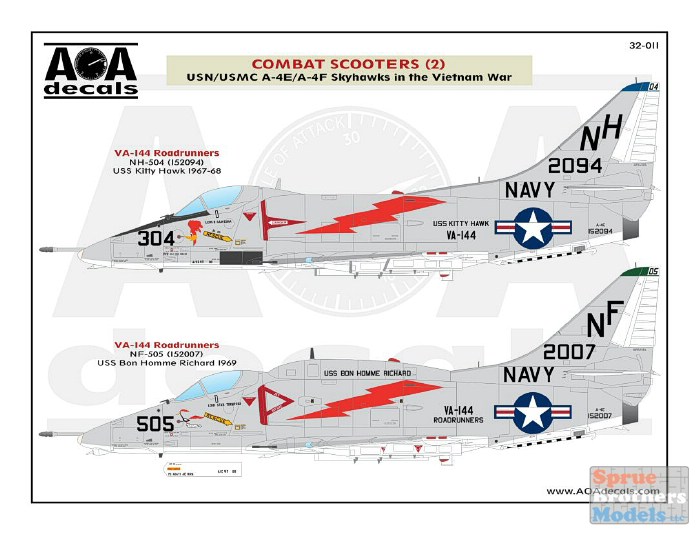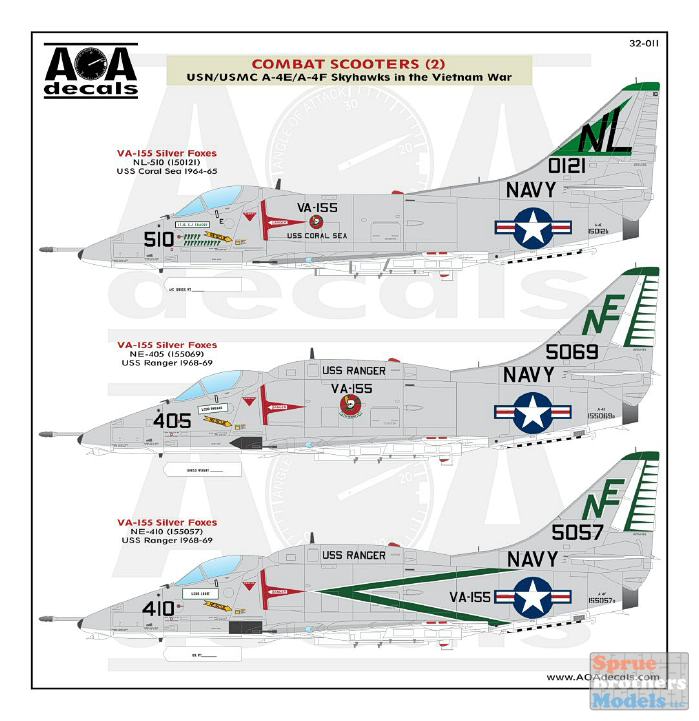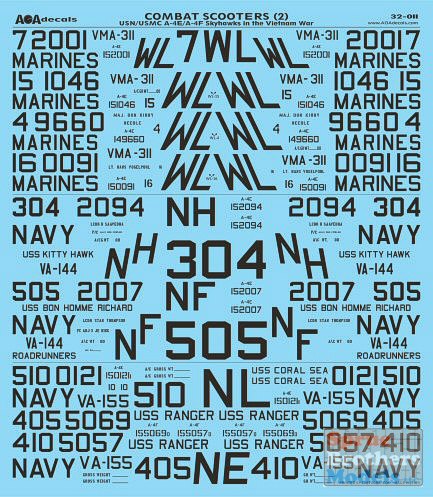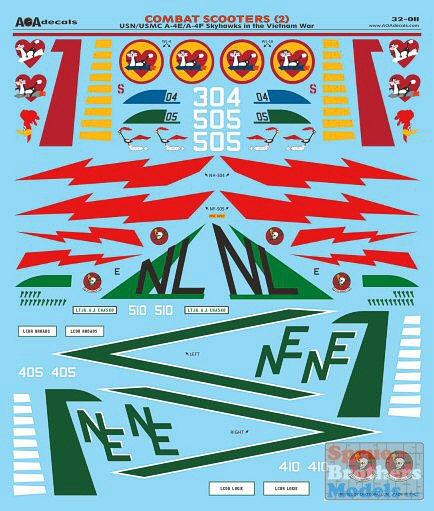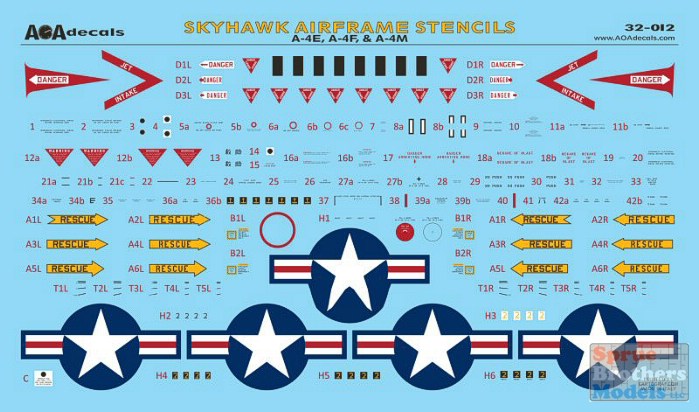 This Part 2 decal sheet focuses on three A-4E/F Skyhawk squadrons in the Vietnam War. Typical for AOA's coverage of Vietnam USN/USMC aircraft, this sheet also provides the modeler with the choice of time periods for a specific squadron; and in the case of the A-4, also a choice of aircraft with and without the later avionics hump.
The VA-144 lightning bolts were originally orange but could appear anywhere from a dark reddish-orange to straight orange. A compromise was made in selecting the "correct" color to print the decals somewhat in the middle of the range towards orange. While only one style of the early basic roadrunner insignia is provided, both an outlined and non-outlined version is provided for the later much more detailed roadrunner. The actual aircraft marking had a very fine outlining on all components of the roadrunner, but due to limitation in minimum printing thickness this outlining may not look the best in decal form for the scale, so both options are provided based on personal preference.
Similar to the VMA-223 bulldog insignia on A-4 aircraft in Vietnam, the VMA-311 insignia is nearly always shown in illustrations and in previous decals with significant black outlining, varying details, and various colors for the rocket - presumably due to basing the appearance on more modern VMA-311 examples and/or squadron patch detail. The original Vietnam-era marking was apparently sprayed on the fuselage using stencils. As a result, the alignment between all the components (outer circle, heart, rocket, tomcat, etc) varied such that each aircraft's insignia was slightly unique. The late style insignia decals provided on this sheet in particular were based on the actual Vietnam marking for that specific airframe, and as such, are significantly closer in appearance to the original VMA-311 marking than has been portrayed generically in the past.
9 Marking Options Included:
- VMA-311 Tomcats - 4 options from Chu Lai, South Vietnam, spanning betwen 1966-70
- VA-144 Roadrunners - 2 options: 1 from USS Kitty Hawk 1967-68, and 1 from USS Bon Homme Richard 1969
- VA-155 Silver Foxes - 3 options: 1 from USS Ranger 1964-65, and 2 from USS Ranger 1968-69 (latter two are A-4F's, and both had the original straight style in-flight refueling probes that are already provided in the Trumpeter E/F kits)
As usual with AOA releases, an extensive airframe stencil sheet is also included. Stencils are provided for one A-4; however, the stencil sheet is also available to purchase separately (see AOA32012).
Decals also included for VA-144 fuel tanks. (VA-155 and VMA-311 generally had plain white fuel tanks without any squadron markings/identifiers.)
View All
Close