AOA48005 1:48 AOA Decals - Trainers No More: Trojans at War T-28B T-28C T-28D Trojans in the Vietnam War
SKU:

AOA48005

UPC:

MPN:

48005

Scale:

1/48
Frequently bought together:
Description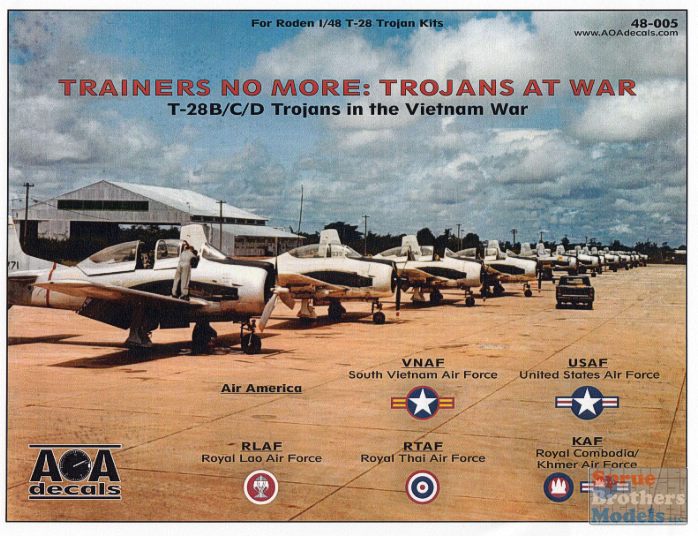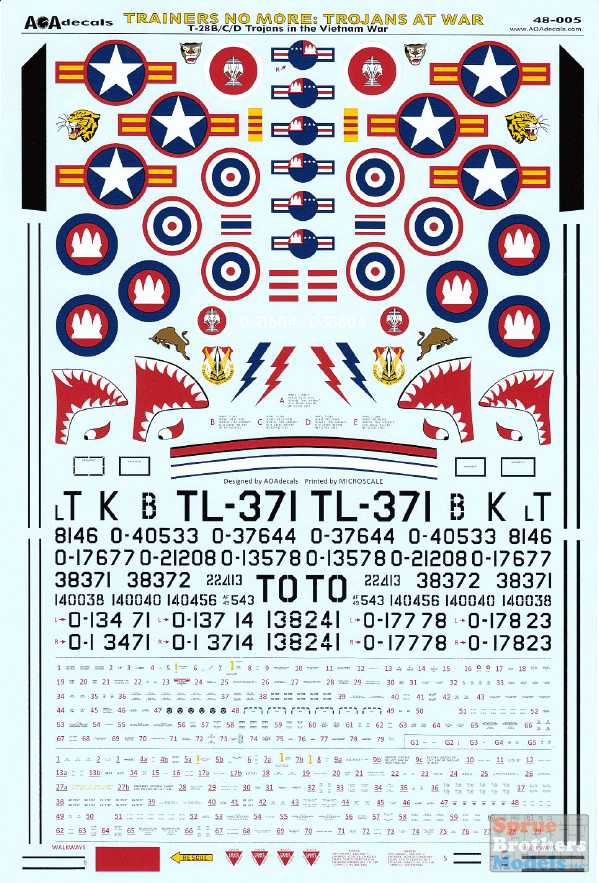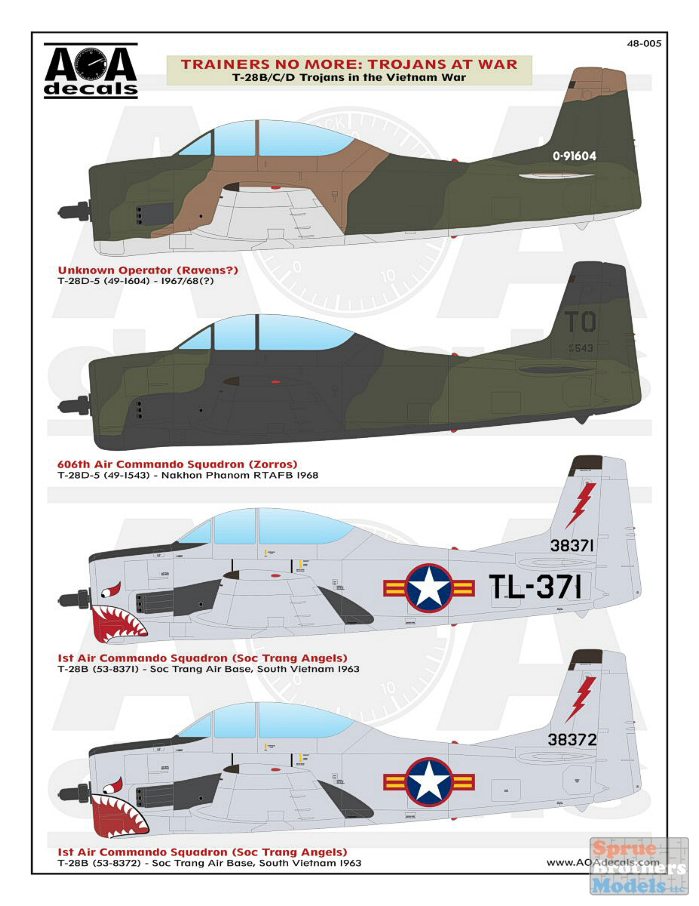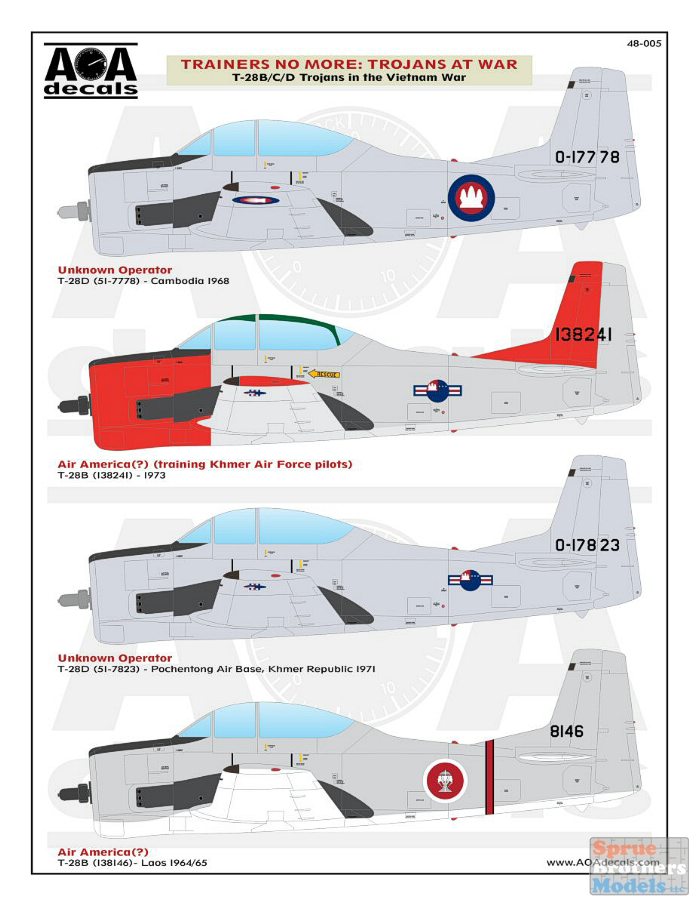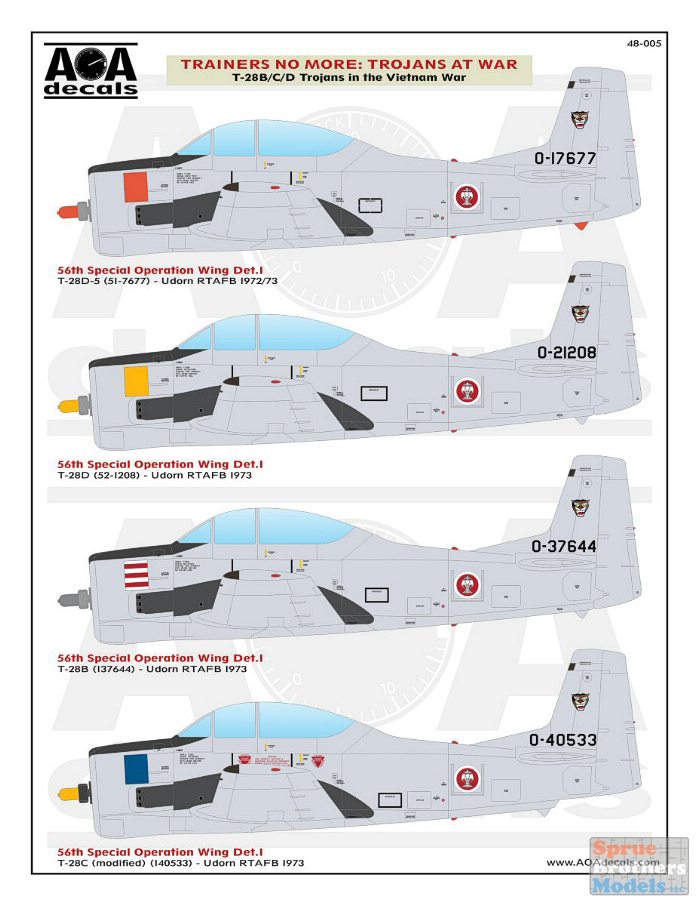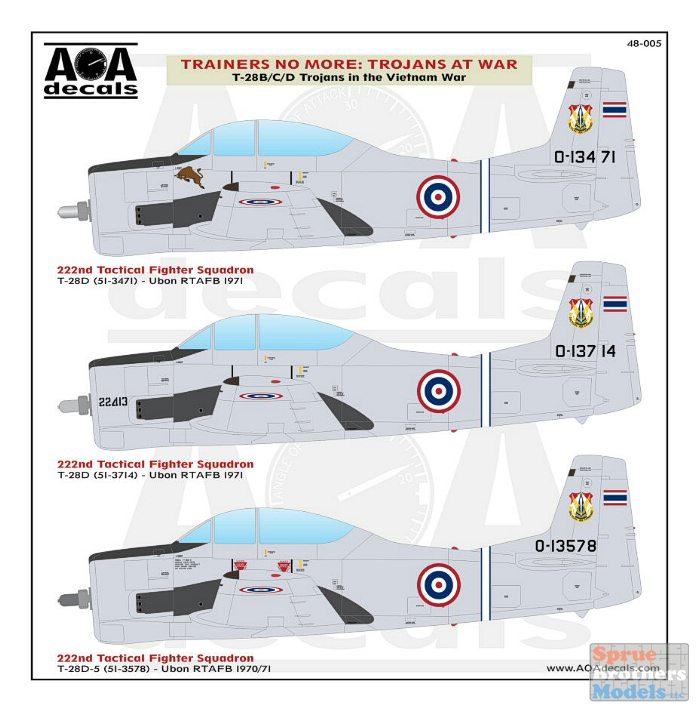 48-005 - TRAINERS NO MORE: TROJANS AT WAR
T-28B/C/D Trojans in the Vietnam War
Important Notes!
Unfortunately the two "VNAF" (US) 1st Air Commando shark-mouthed schemes have some color uncertainty. At the time of printing, of the approximately 30 photos available of their aircraft, all except two were black/white - and of those two in color, in one that specific aircraft didn't have the lightning bolt on the tail and the other didn't have the sharkmouth.
(a) Various written accounts conflict regarding the lightning bolt color: light blue, blue, and red were all described. In the black/white photos the bolt appears very dark in comparison to the color of inside of the eyes, which is known to be red from the color photo. One early color photo shows a red bolt, but it's not clear if they were standard. Therefore, both red and dark blue bolts are provided as decals.
(b) The inside of the sharkmouth is usually shown in profile illustrations as red. However, with some aircraft the inside of the mouth is noticeably very dark, appearing darker than the inside of the eye (red), such as the case with 53-8371. On the other hand, the inside of the mouth on 53-8372 appears closer in color to the red eye color. Both the teeth and the eyes also varied from aircraft to aircraft (they were hand painted) so it is possible perhaps the colors also varied? Only red-filled mouths are provided (though with some carefuly trimming and painting the red section of the decals can be removed and painted a different color.)
18 Marking Options Included:
Although none are specifically marked with the US national insignia, many of these were also US operated/maintained under the disguise of other nationalities as part of the "secret" war outside of Vietnamese borders.
United States - 2 schemes (T-28D-5)
South Vietnam - 5 schemes (T-28B & T-28C)
Laos - 5 schemes (T-28B, T-28C, T-28D, & T-28D-5)
Thailand - 3 schemes (T-28D & T-28D-5)
Cambodia - 1 scheme (T-28D)
Khmer Republic - 2 schemes (T-28B & T-28D)
Two types of full airframe stenciling are also provided - one as the original full decal type lettering and the other as the sprayed/stencil lettering. Two versions of the walkway striping are also provided.
View All
Close