Product Description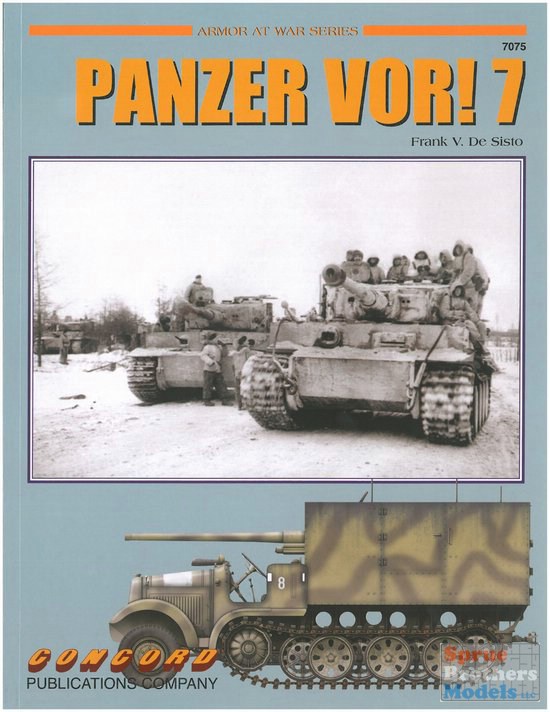 Author:
Frank V. De Sisto
Features:
- 72 Pages
- 16 color plates
- 172 photos
Author Frank De Sisto continues his very popular series of Panzer Vor! books for Concord Publications. Focusing on German armored vehicles, this is the seventh volume in this well-regarded mini-series. The newest book contains many inspirational new black and white photographs from the 1939-45 wartime period, and they show armored vehicles in a variety of settings.
The book opens with a pr??cis of the Germany tank industry before and during the war. This summary describes how the nation's arms industry was resurrected in the 1920-30s, and how it sought to provide the materiel and vehicles needed to feed Germany's insatiable war machine. Despite many restrictions and hurdles, German industry did surprisingly well in producing such a wide range of armored fighting vehicles up till the end of the war. These efforts are reflected in a fascinating array of photos showing military vehicles in action. The range of photography is extraordinary - it includes the Panzer I, Panzer II, Panzer Ill, StuG III, Panzer IV, Panther and Tiger I, for example. There are also artillery pieces and a number of half-tracks featured within the covers. Readers will find very useful the highly detailed captions that accompany each picture.
De Sisto continues his longstanding collaboration with accomplished illustrator Laurent Lecocq. In the center of the book are 16 color plates by Lecocq, and these offer sample camouflage schemes and markings. This well-researched book is a worthy companion to the six previous Panzer Vor! volumes, and it will doubtlessly enthuse military buffs.
Other Details
B00BMTZA44
Product Videos
Product Reviews