ACA12285 1:48 Academy TBM-3 Avenger USS Bunker Hill
SKU:

ACA12285

UPC:

8809258926979

MPN:

Scale:

1/48
Frequently bought together:
Description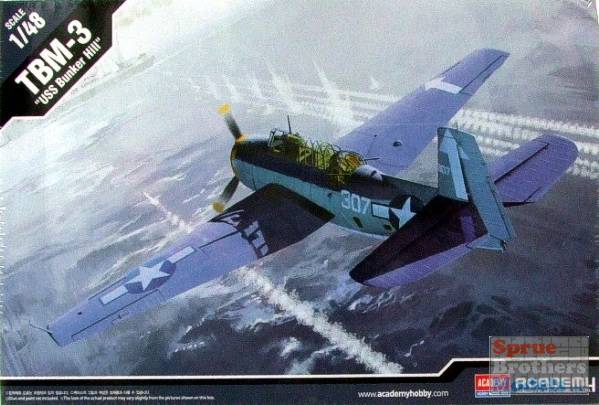 The Grumman TBM-3 was a torpedo bomber that entered service with the U.S. Navy and Marine Corps in 1942.From the Battle of Midway, to its retirement in the 1960s, it was recognized as one of the finest torpedo bombers ever produced. Actually manufactured by General Motors, its armament included a 2,000 lb. Mark 13 Torpedo, or 2,000 lbs. of bombs, up to eight 3.5" or 5" Forward firing Rockets, and various 7.62mm M1919 and .50 Browning machine guns. In September 1944, future President George H.W. Bush was shot down in his Avenger, and actor Paul Newman served as a rear gunner in 1945.
Using Accurate Miniatures plastic injection molds, Academy has pulled out all stops to recreate this highly popular model. And with the highest quality premium Cartograph decals, this TBM-3 accurately miniaturizes the aircraft that flew from the aircraft carrier USS Bunker Hill (CV-17) during the Invasion of Okinawa on April 5, 1945. With over 100 parts, even including a choice of weighted and unweighted tires, details abound. Count the rivets and marvel at the pristine engraving of the panel lines, and enjoy the cockpit detail, landing gear and extraordinary rear gun turret details. From the exactness of the radial engine to the fully loaded bomb bay interior, the precision of the molds and features are so accurate, even the most fastidious aircraft historian and kit builder will relish this kit.
View All
Close