AOA32009 1:32 AOA Decals - USN/USMC A-6A A-6B KA-6D Intruders in the Vietnam War 'Intruders from the Sea'
SKU:

AOA32009

UPC:

MPN:

32009

Scale:

1/32

Subject:

A-6 Intruder
Frequently bought together:
Description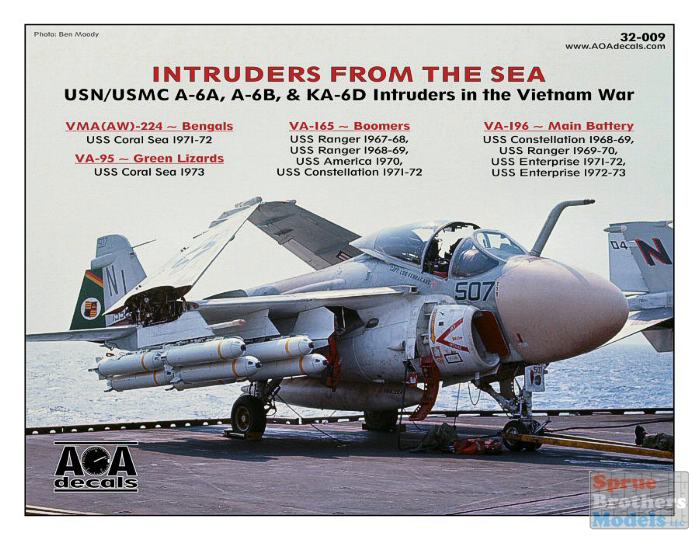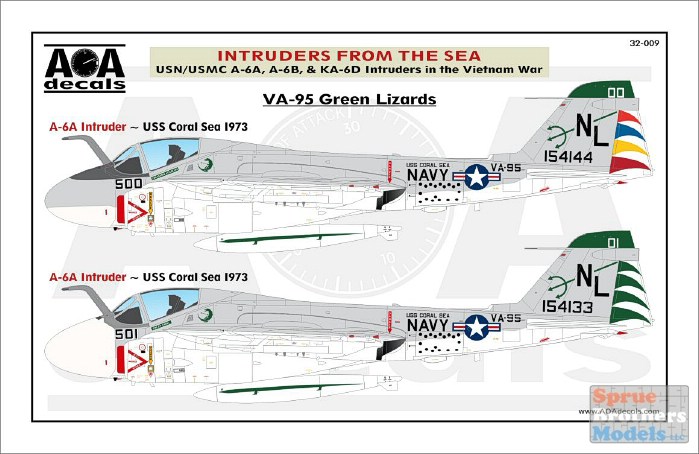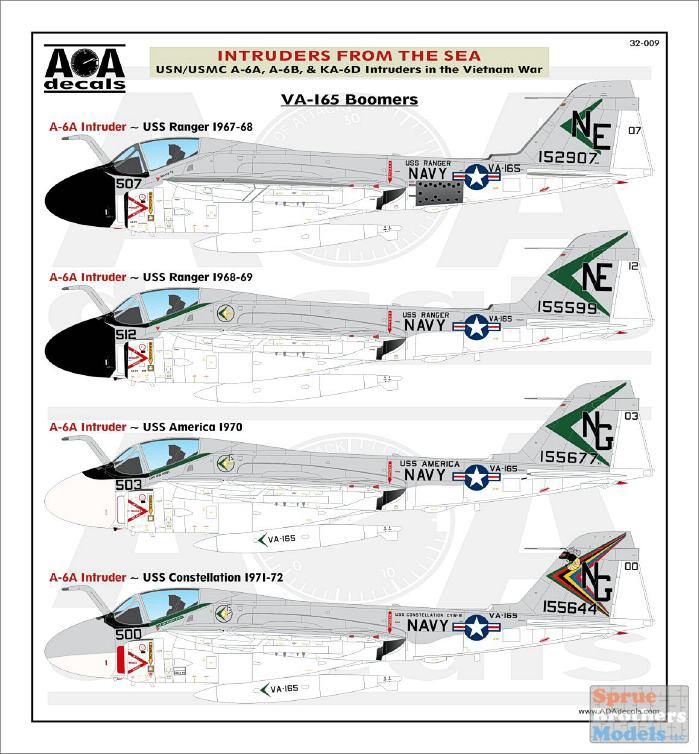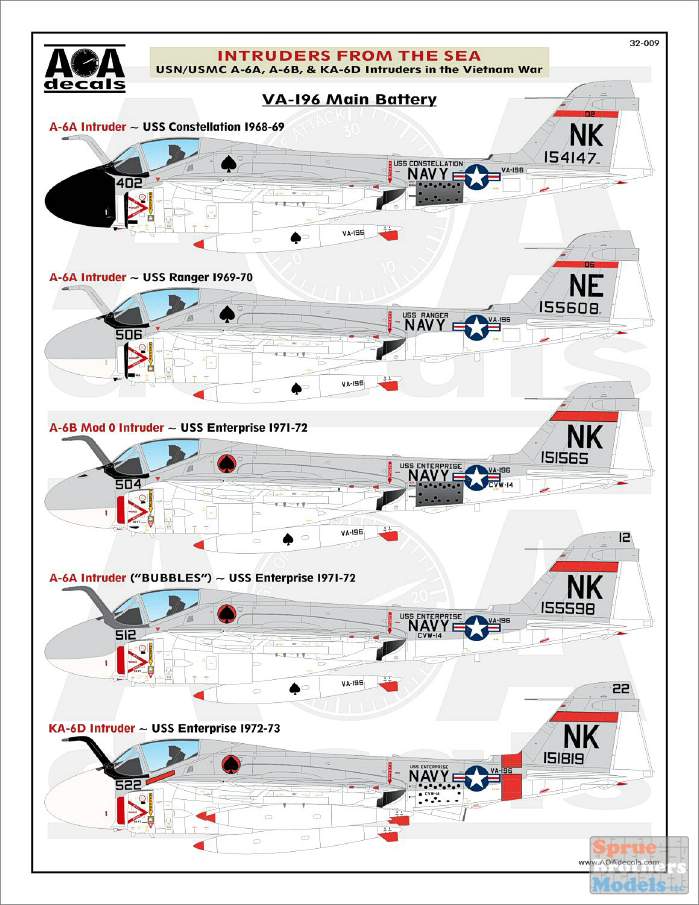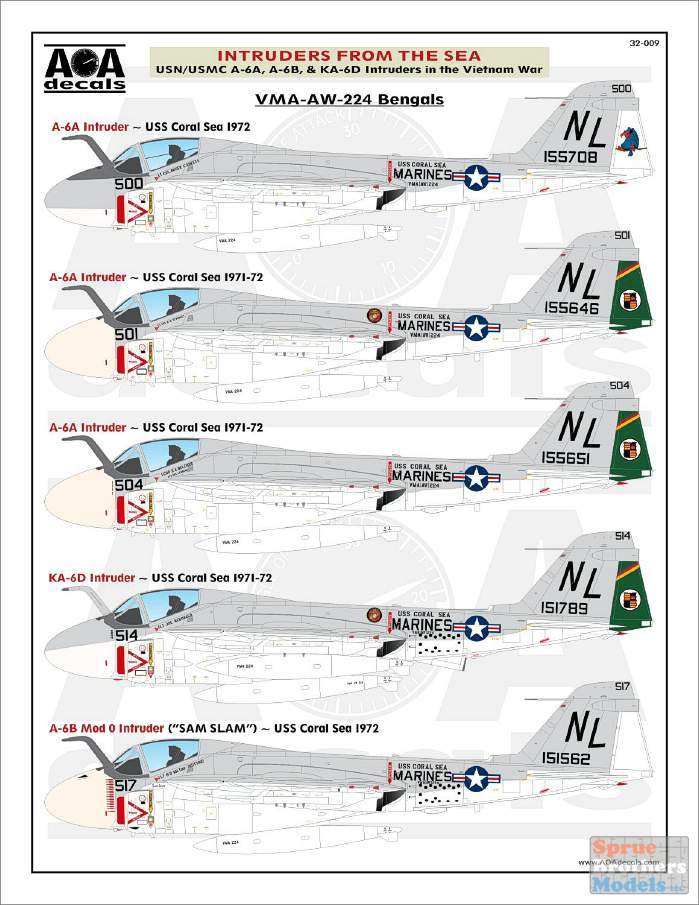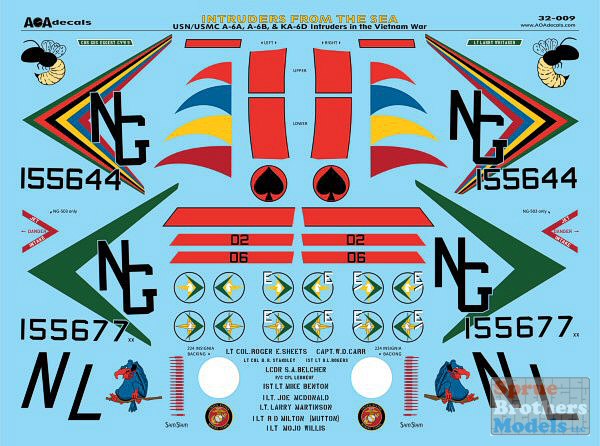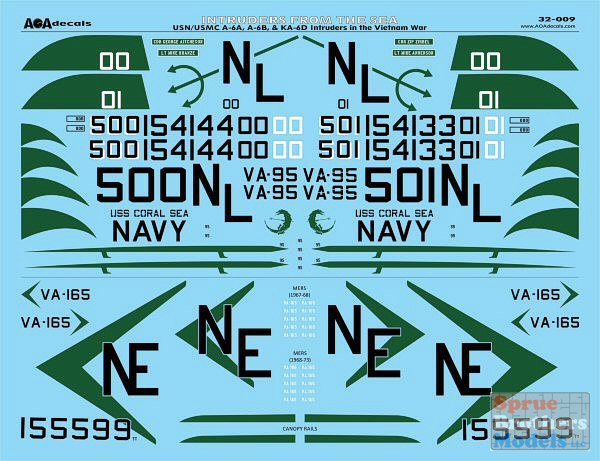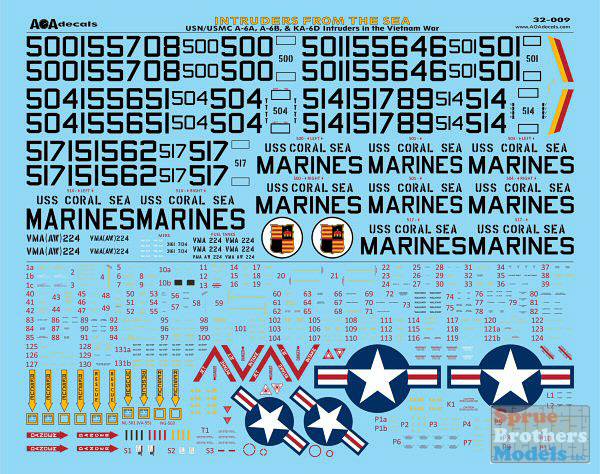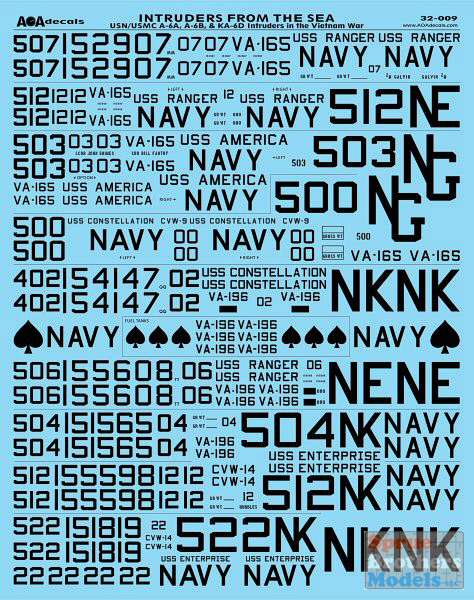 This extensive decal sheet provides the option for up to 16 schemes covering four squadrons. Two of which, VA-165 and VA-196, were tied for the most A-6 Intruder Vietnam combat cruises (5 each). Another is the last of the four USMC A-6 squadrons in Vietnam, VMA-AW-224 (the other three USMC squadrons were covered in the first AOAdecals release INTRUDERS FROM THE BEACH, sheet 32-001). And lastly, the final squadron covered is VA-95, which supported the naval mine clearing Operation End Sweep along the North Vietnamese coast under the Paris Peace Accords.
16 Marking Options Included:
- VMA(AW)-224 Bengals - 5 options: USS Coral Sea 1971-72 (3x A-6A including CAG scheme, 1x A-6B, & 1x KA-6D)
- VA-95 Green Lizards - 2 options: USS Coral Sea 1973 (2x A-6A, including CAG scheme)
- VA-165 Boomers - 4 options: USS Ranger 1967-68 (A-6A), USS Ranger 1968-69 (A-6A), USS America 1970 (A-6A), & USS Constellation 1971-72 (A-6A CAG scheme)
- VA-196 Main Battery - 5 options: USS Constellation 1968-69 (A-6A), USS Ranger 1969-70 (A-6A), USS Enterprise 1971-72 (1x A-6A & x1 A-6B), USS Enterprise 1972-73 (KA-6D)
Accurate stencils provided for one aircraft; however, the stencils provided are complete airframe stencils. The stencil sheet is also available to purchase separately, see 32-002.
Decals also included for MERs and fuel tanks.
View All
Close