BMA48011 1:48 Bullseye Model Aviation Decals - P-51D Mustang Yoxford Boys #3
SKU:

BMA48011

UPC:

MPN:

48011

Scale:

1/48

Subject:

P-51 Mustang
Frequently bought together:
Description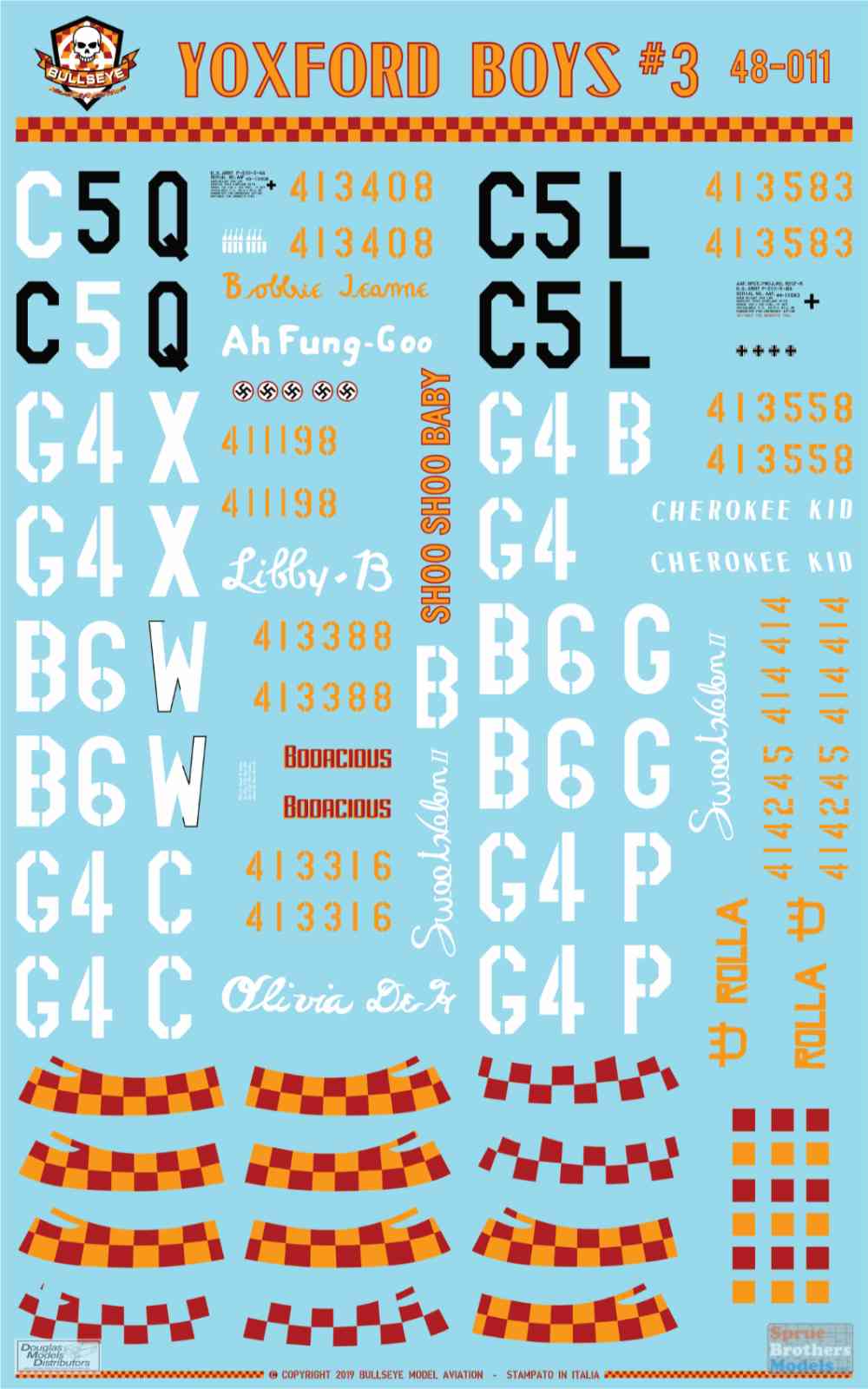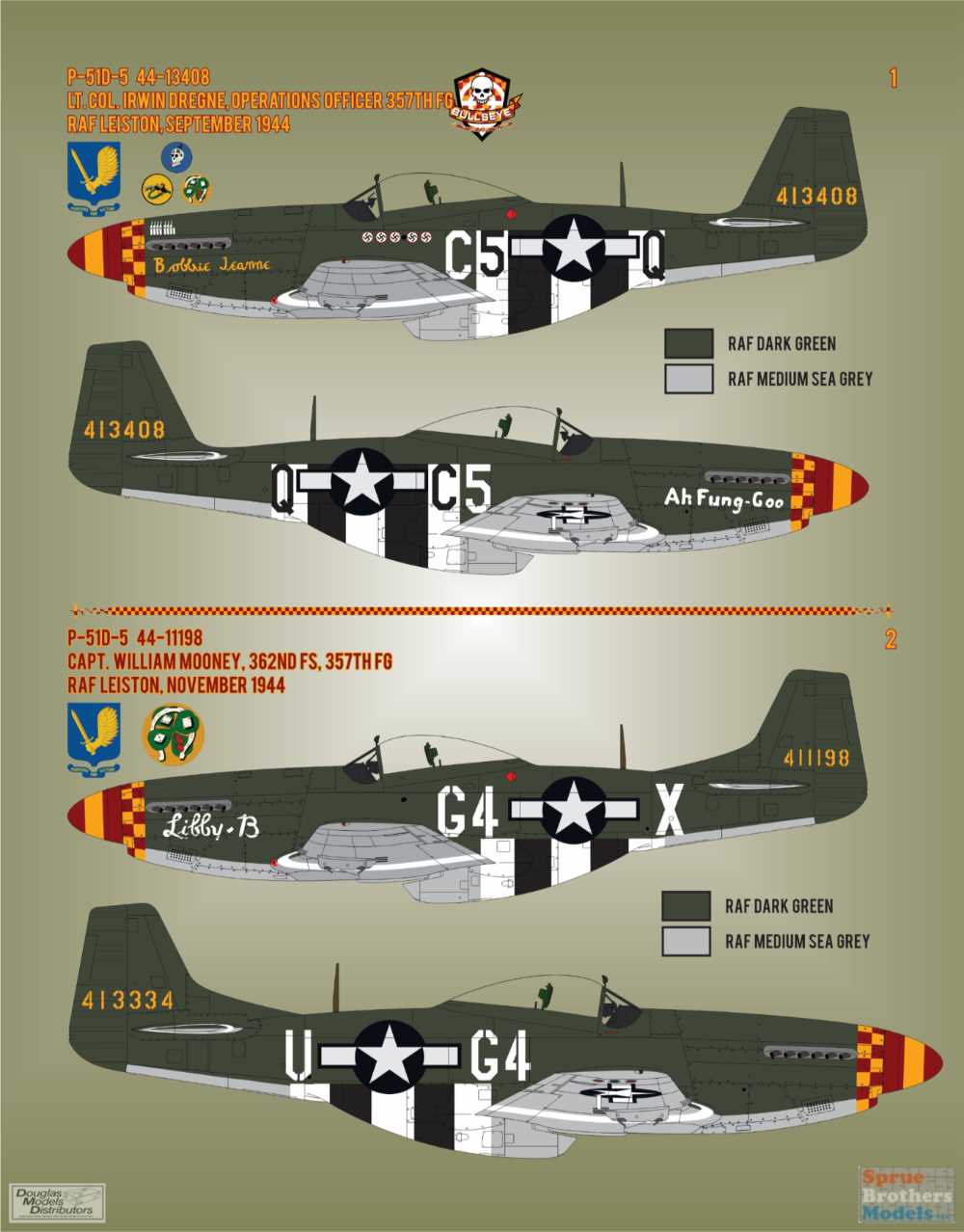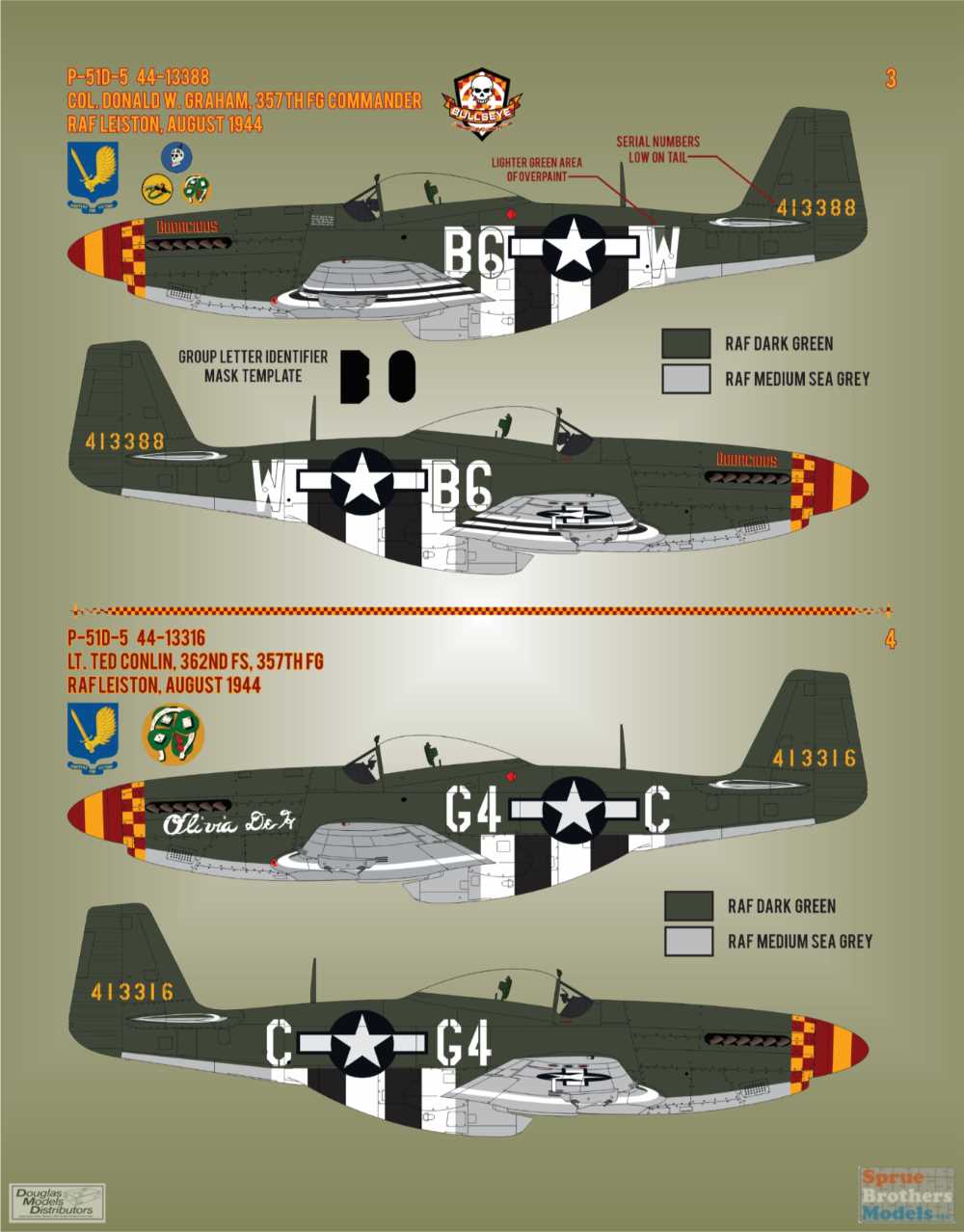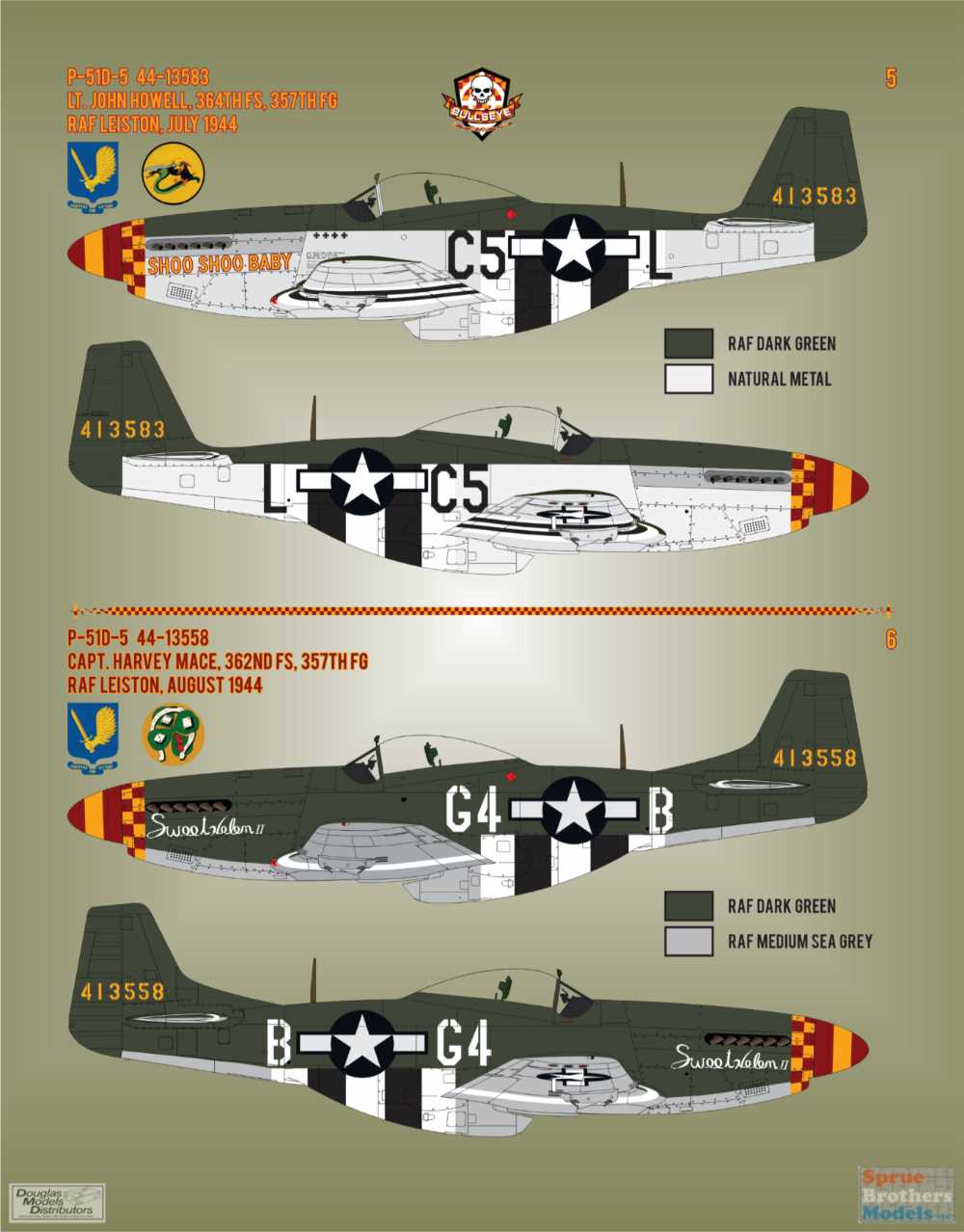 Marking options:
1) 44-13408 was flown by Lt. Col. Irwin Dregne, ƒ??Bobby Jeanneƒ? was named for his son and wife.
Dregne was an original Tonopah member of the group, and served in several capacities including
Group Ops. Officer, and was itƒ??s last wartime commander. Dregneƒ??s crew chief had his favorite
saying ƒ??Ah Fung Gooƒ? painted on the R side of the nose. 408 got full green/grey camouflage in the
fall, retained the high fuselage stripes from the summer, shrouded exhaust.
2) Capt. William Mooney was a replacement pilot in the 362nd, was assigned a P-51D-5 that had a
replacement tail fillet, low fuselage ID stripes and wing ID stripes. He named ƒ??Libby-Bƒ? after his
mother and his sister. Christmas eve 1944, Capt. Mooney was downed by a fighter but bailed out
successfully. After his capture he was murdered by a local nazi official, who was later hanged for the
crime. Mooney was one of two known, and possibly four 357th fliers murdered after capture.
3) Col. Don Graham served as Deputy Group Commander under Col. Henry Spicer. When Spicer was
downed by flak and captured on March 5 1944, Graham took command and steered the group for
8 hectic months until his tour ended. He maintained an aircraft in the 363rd FS which he named
ƒ??Bodaciousƒ? 44-13388. In August the group still used high fuselage invasion stripes and full stripes
under the wings. 388 was the first aircraft in the group to be fitted with the new K-14 gunsight.
The sights arrived without mounts, so the 469th Service Squadron technicians developed a mount
that was so successful that Graham offered the design to the other 8th AF groups.
4) P-51D-5 44-13316 arrived at Leiston on June 4, 1944, one of the first P-51Ds in the ETO. No
information is available to say it flew a mission on D-Day, but it did receive a full set of invasion
stripes and flew as ƒ??MILDREDƒ? and Kit Carsonƒ??s ƒ??NOOKY BOOKY IIƒ?. When Carsonƒ??s tour ended
he went on leave and 316 was passed to Lt. Ted Conlin to replace his earlier P-51B. Conlin named
it ƒ??Olivia De Hƒ? after English actress Olivia De Havilland of ƒ??Gone With The Windƒ? fame.
Ted apparently had an affinity for English women, he married an English girl he met during the war.
316 received a full camouflage of green/grey, over the earlier half scheme. Un-shrouded exhaust.
5) 44-13583 was the mount of Lt. John Howell. He repeated the name from his earlier P-51B
ƒ??SHOO SHOO BABYƒ? after a popular song. Full underwing invasion stripes and high stripes on
the fuselage, shrouded exhaust.
6) Shortly after the invasion of Europe on June 6, 1944 the word was passed from 66th FW HQ
that itƒ??s aircraft would be deployed from England to a destination on the continent. The aircraft
would need to have some camouflage against view from the air, and North American was delivering
P-51s unpainted. The 357th began to apply green paint to itƒ??s aircraft in 2 versions, both B and the
new Ds. One was the half scheme of green applied to the upper fuselage and top of the wings. The
second was all over green on the upper surfaces and grey on the lower. Harvey Mace flew P-51D-5
44-13558 and named it after his wife Helen. 558 was one of a very few aircraft that wore both
schemes. ƒ??Sweet Helen IIƒ? went into paint and returned in full camouflage. It seems likely that the
reason might have been to receive a tail fillet, but there is no way to confirm that...this is your call.
7) 44-14245 was previously flown by Otto ƒ??Dittieƒ? Jenkins as ƒ??FLOOGIE IIƒ?. Jenkins had mechanical
trouble with it on a local flight in December 1944 and he bellied it in at Leiston. It took several weeks
to return to flight status, and when the mechanics were done, it was assigned to Lt. Ed Hyman, a
no kidding cowboy from outside San Antonio, Texas. Hyman owned a horse ranch, so he figured
he would use the brand from his ranch to personalize his new mustang, so the ƒ??U Barƒ? brand was
combined with ƒ??Rollaƒ? who was a girl he fancied back in Texas. The repaint after repair resulted in
the loss of the distinctive scalloped camouflage demarcation on ƒ??FLOOGIE IIƒ? and the fuselage ID
stripes were removed. Un-shrouded exhaust.
8) 1st Lt. Henry Franklin was a replacement pilot from Tulsa, Oklahoma who christened his new
P-51D-10 ƒ??CHEROKEE KIDƒ? upon his taking it over. 44-14414 was delivered new to the 357th
in August 1944, received fresh camouflage paint and issued to the 363rd FS where Lt. Franklin
was assigned to it. Low fuselage ID stripes and white ID stripes on the wings and stabs. It was
lost later that winter by a pilot who ditched it in the North Sea. Same pilot ditched a second one
in the North Sea, but was captured this time. Shrouded exhaust.
View All
Close