DAS8658 Detail & Scale Books - F-117 Nighthawk Stealth Fighter: An Illustrated Developmental History
SKU:

DAS8658

UPC:

9798371098658

MPN:

8658

Scale:

Not Applicable

Subject:

F-117 Nighthawk
Frequently bought together:
Description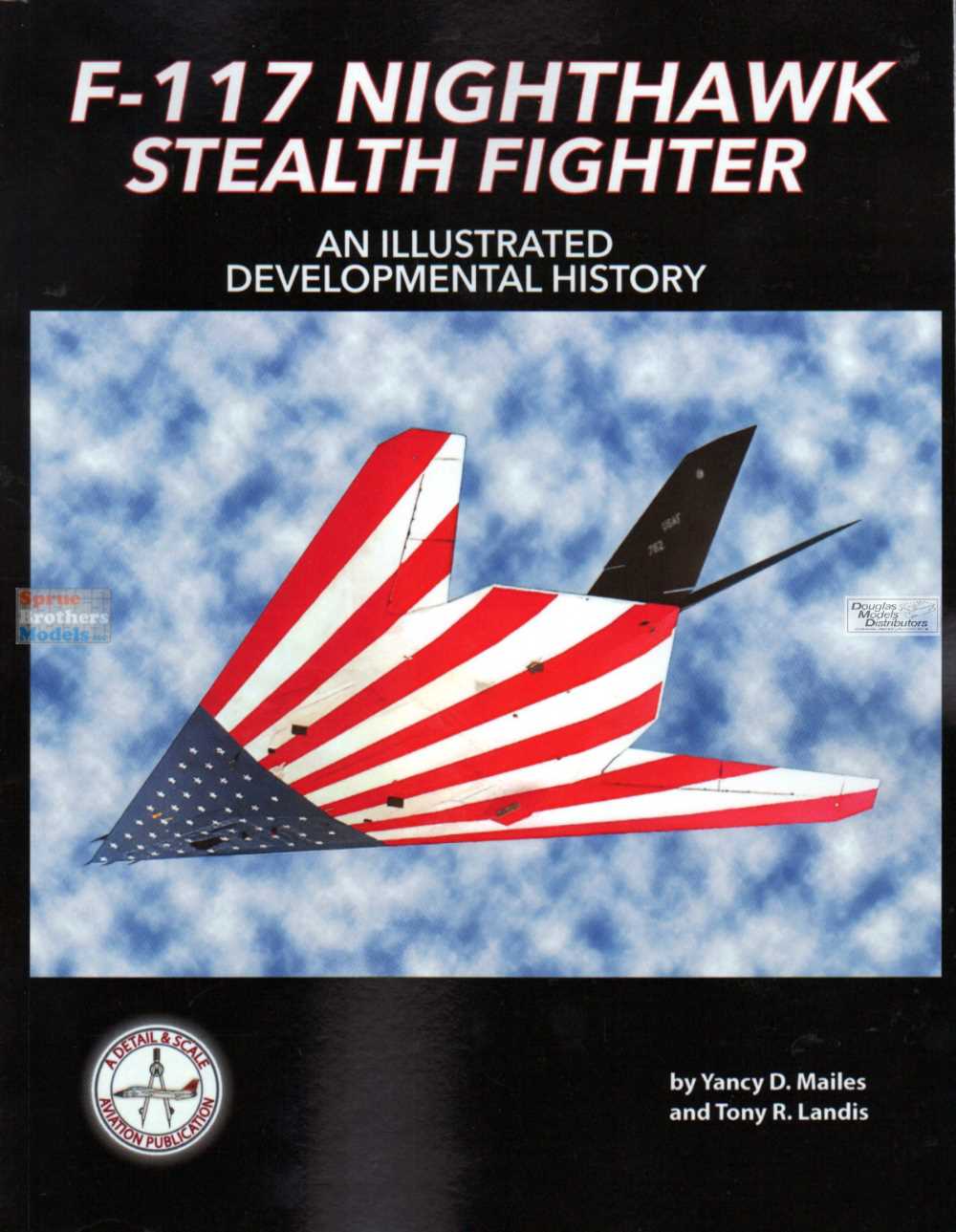 As its title implies, F-117 Nighthawk Stealth Fighter – An Illustrated Developmental History, covers the design and testing of the Lockheed F-117 Nighthawk Stealth Fighter, one of the most revolutionary military aircraft in history. The Nighthawk was conceived in total secrecy and achieved operational status before the general public was even aware of its existence. The first combat aircraft designed with the primary goal of being unobservable by enemy air defenses, its mission was to strike high value targets before the enemy even knew it was there.
Contractors, government agencies, and labs had been investigating low observable (LO) technologies since the mid-1950s. The book begins with a summary of these efforts and chronicles the early steps that led to the classified Experimental Survivable Test bed (XST) project under the auspices of the Defense Advanced Research Projects Agency (DARPA). In Phase 1 of the project, both Lockheed and Northrop were contracted to produce a full-scale model demonstrator of an aircraft to achieve LO primarily through designs featuring faceted surfaces. Lockheed won Phase I and the Air Force authorized them to proceed into Phase II with the design, construction, and flight testing of two demonstrator aircraft. The Air Force then renamed the project from XST to HAVE BLUE.
The two demonstrator aircraft were produced and entered flight testing as BLUE 01 and BLUE 02. Both of these aircraft eventually crashed, but not before the flight test team had gathered all the data they needed and proved that the goal of fielding a combat aircraft with a very low radar cross-section (RCS) was attainable.
DARPA next penned the requirements of the Advanced Technology Aircraft, the program that eventually resulted in Lockheed's F-117 Nighthawk. The book covers the design effort and the setup of a special test site and team known as the Scorpion Test Team. Early challenges overcome by the program are covered, and the flight test program is looked at in some detail. The Nighthawk eventually reached Initial Operational Capability (IOC) with the 4450th Tactical Group on October 28, 1983.
The main text is followed by a profusely illustrated photographic history of the F-117, that covers every aspect of the development of this unique aircraft. The coverage of the history of the early years, the XST project, HAVE BLUE, and the design and testing of the Stealth Fighter is superb.
The basic content of this book was originally published as F-117 Nighthawk Stealth Fighter — Photo Scrapbook by Specialty Press in 2006. Detail & Scale is proud to bring this incredible history back to being available to today's readers.
F-117 Nighthawk Stealth Fighter – An Illustrated Developmental History contains 295 full color photographs and 28 drawings.
View All
Close