ACA13266 1:35 Academy M113A1 Vietnam War
SKU:

ACA13266

UPC:

603550013898

MPN:

Scale:

1/35
Frequently bought together:
Description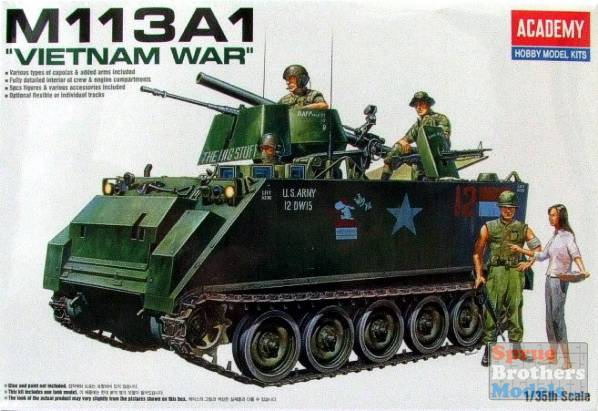 In production over 30year, longer than any other armored vehicle, M113 and its many sub-types serve in the armies of more than 50 countries. As this is written, over 40,000 M113's or variants have been built and delivered by FMC or its licensees.

Battle proven in Vietnam, the M113 enabled a ten-man squad of infantry to travel behind protective armor in an amphibious vehicle that carried sufficient weapons to be considered an offensive weapon system.

Its ability to ford streams or even cross lakes made it an extremely useful vehicle in the waterlogged jungles of Vietnam.

As experience was gained with the use of the M113 in combat, numerous modifications were made to the vehicle to increase both its firepower and crew protection features.
Various types of cupolas & added arms included.
Fully detailed interior of crew & engine compartments.
Includes 5 figures & various accessories.
Choice of one-piece flexible or individual tracks
View All
Close