ACA13267 1:35 Academy IDF Merkava Mk.III
SKU:

ACA13267

UPC:

603550013911

MPN:

13267

Scale:

1/35
Frequently bought together:
Description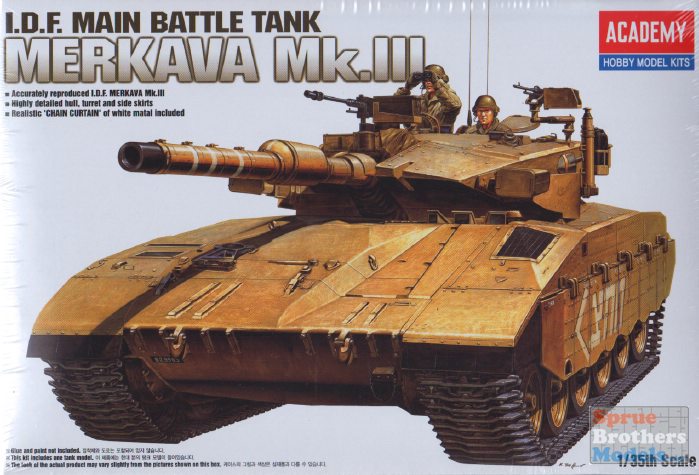 The Israel Defense Force(IDF) created the Merkava series of tanks out of the need to have an independent source of Main Battle Tank(MBT).

Designed for survivability, the concept of modular spaced armor was incorporated to provide the Mk.III with added protection around the crew section. The modularity of the armor allows quick field replacement.

A diesel powered engine mounted in the front of the hull acts as extra armor and major suspension changes were made for increased road speed and crew comfort.

Merkava Mk.III is equipped with impressive offensive weaponry including a 120mm cannon, a coaxial 7.62mm machine gun, 2 anti-personnel 7.62mm machine guns, a 12.7mm machine guns for used by the commander and a 60mm light mortar.


Accurately Reproduced I.D.F. Merkava Mk.III.
Highly Detailed Hull, Turret & Bogies.
Includes Realistic 'Chain Curtain of White Metal.
Various Accessories & Sub Machine Guns Included.
View All
Close