AMM7712 AMMO by Mig Solutions Box - Modern US Military Colors and Weathering System
SKU:

AMM7712

UPC:

8432074077121

MPN:

7712

Scale:

Not Applicable
Frequently bought together:
Description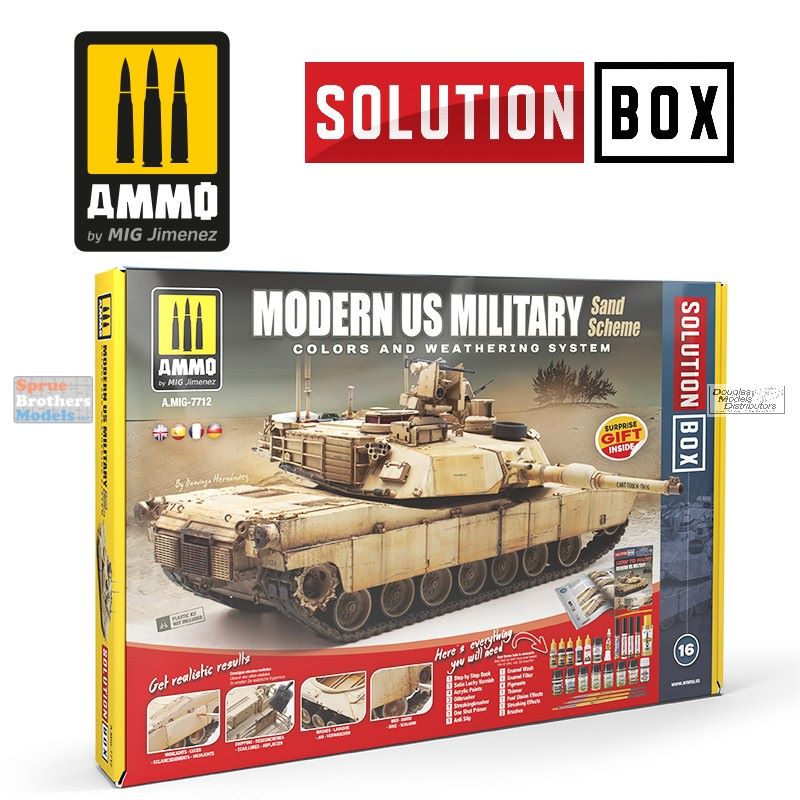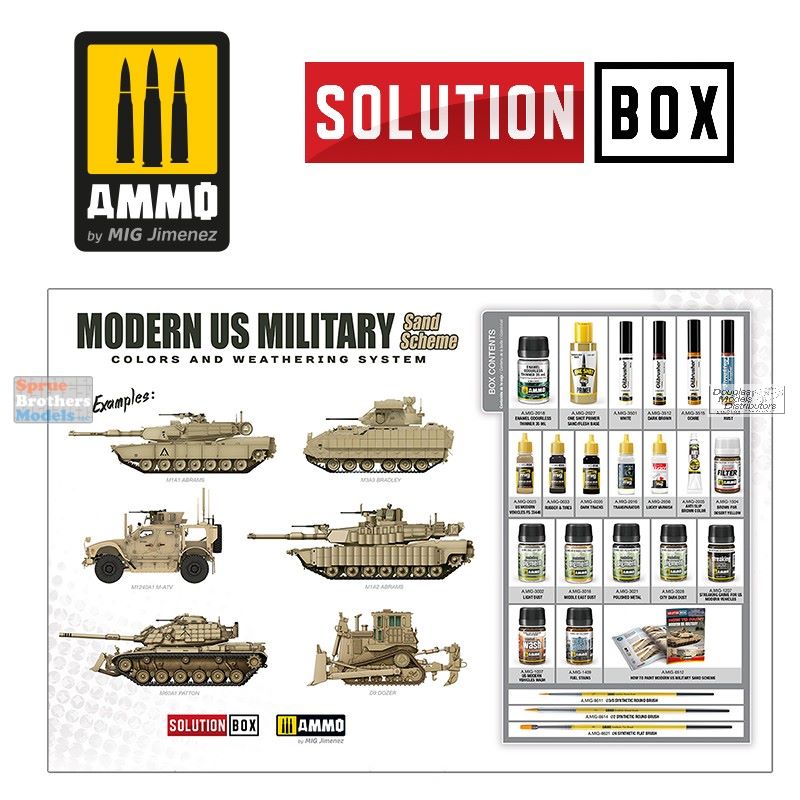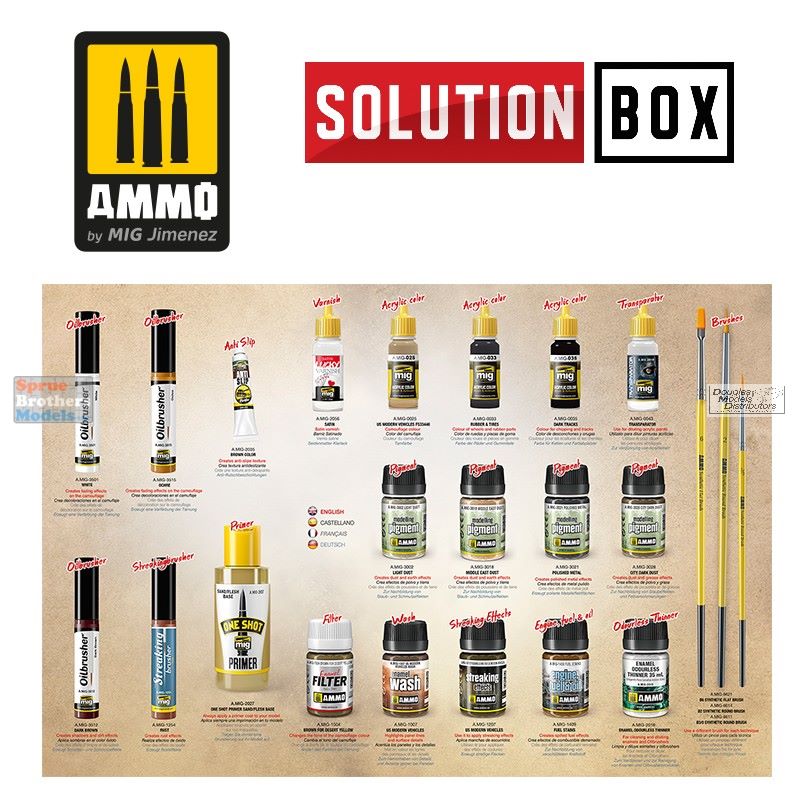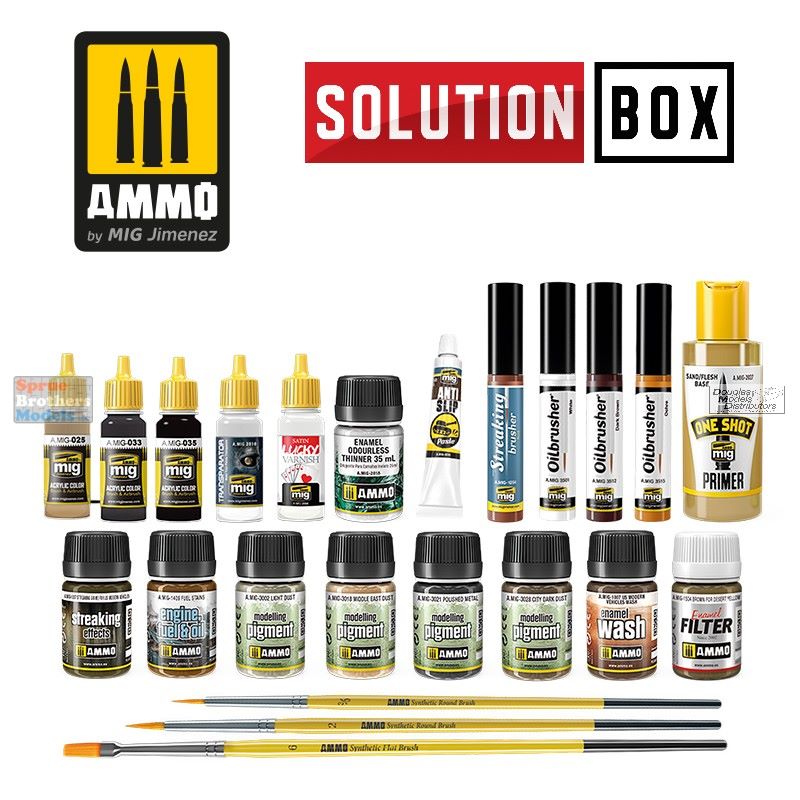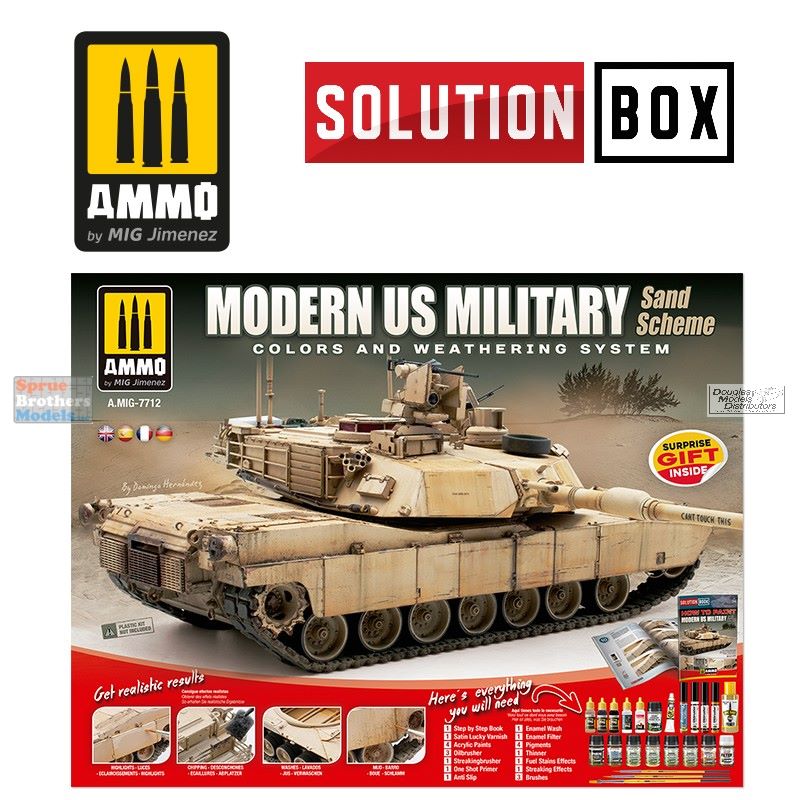 Solution Box Modern US Military Sand Scheme provides you with everything you need for painting and weathering modern US Army vehicles in the Sand Camouflage scheme.
The most commonly used colour from the 1990s to present by the US Army in desert and arid terrain is the colour FS33446, popularly known as "Desert Tan". This colour has been used in the Iraq and Afghanistan campaigns, and has even been the standard colour scheme for many units of the US Army and US Marine Corps based on US soil.
Products included:
AMM6512 Solution Book How to Paint Modern US Military Sand Scheme
AMM2027 ONE SHOT PRIMER SAND
AMM2035 ANTI-SLIP PASTE BROWN COLOR FOR 1/35
AMM0025 US MODERN VEHICLES FS33446
AMM0033 RUBBER AND TIRES
AMM0035 DARK TRACKS
AMM2016 TRANSPARATOR
AMM1504 BROWN FOR DESERT YELLOW
AMM1007 US MODERN VEHICLES WASH
AMM3018 MIDDLE EAST DUST
AMM3002 LIGHT DUST
AMM3028 CITY DARK DUST
AMM3021 POLISHED METAL PIGMENT
AMM1207 STREAKING GRIME FOR US MODERN VEHICLES
AMM3501 OILBRUSHER WHITE
AMM3515 OILBRUSHER OCHRE
AMM3512 OILBRUSHER DARK BROWN
AMM1254 STREAKINGBRUSHER RUST
AMM1409 FUEL STAINS
AMM2018 ENAMEL ODOURLESS THINNER
AMM2056 SATIN LUCKY VARNISH
AMM8621 6 SYNTHETIC FLAT BRUSH
AMM8611 SYNTHETIC ROUND #3/0
AMM8614 SYNTHETIC ROUND #2
View All
Close