AMM7721 AMMO by Mig Solutions Box - Bare Metal Aircraft Colors and Weathering System
SKU:

AMM7721

UPC:

8432074077213

MPN:

7721

Scale:

Not Applicable
Frequently bought together:
Description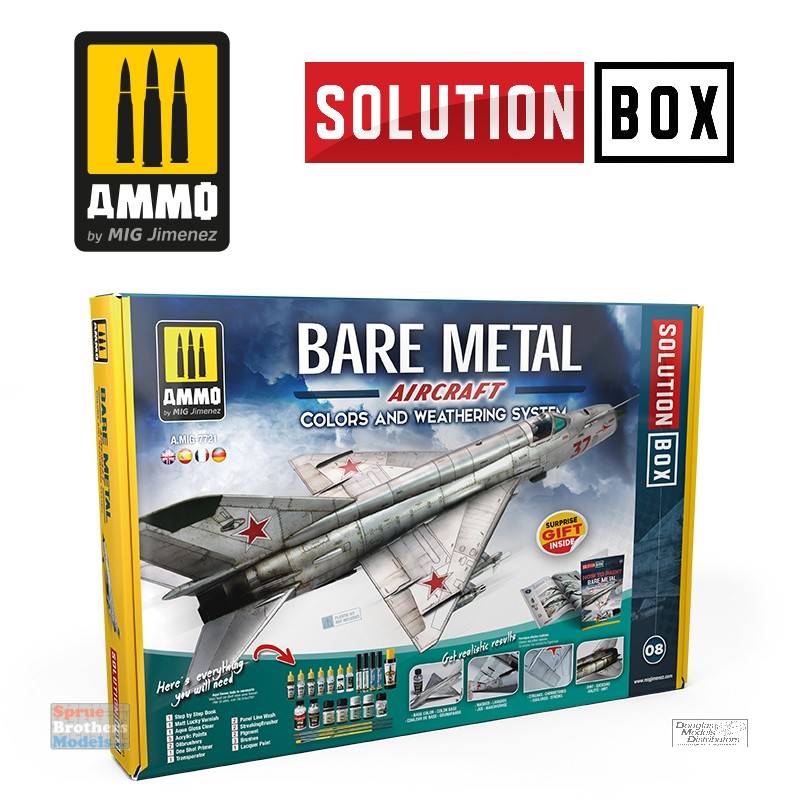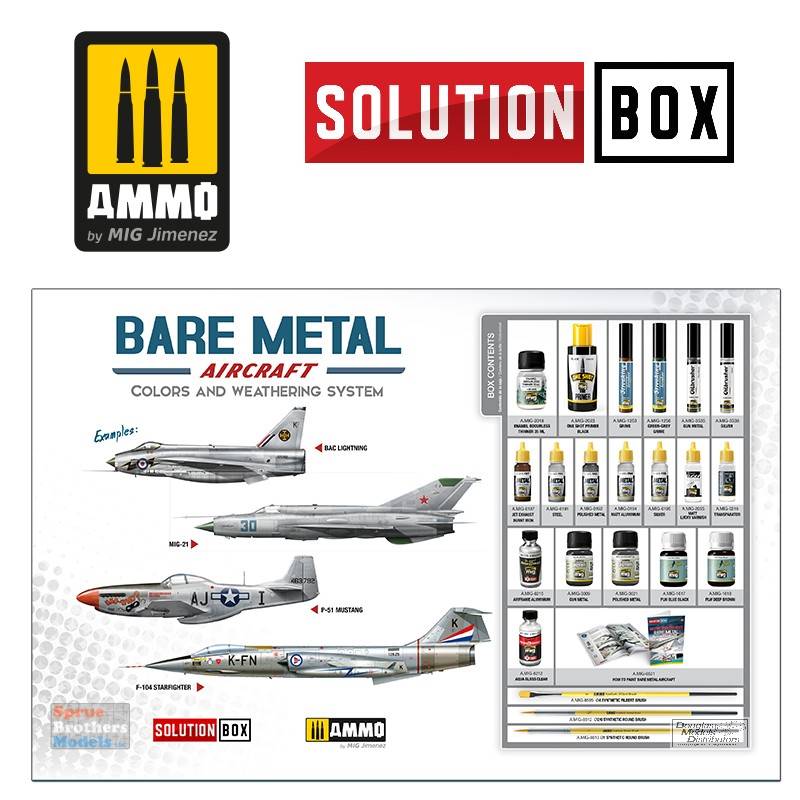 Many aircraft throughout the history of aviation have been flown entirely or partially in their bare metal skins. These iconic aircraft include the P-51 Mustang, P-38 Lightning, B-29, Ju-52, F-86 Sabre, F-104 Starfighter, BAC Lightning, and most post-war Soviet aircraft, such as the MiG-15, MiG-17, MiG-19, MiG-21 and the famous Tu-95 "Bear" and Tu-142 bombers. These are just a few well known examples; the list of combat and civilian aircraft featuring bare metal surfaces is almost endless. Simply grab your favourite model and start painting without further delay!
Products included:
AMM0187 Jet Exhaust Burnt Iron
AMM2023 ONE SHOT Primer Black
AMM0191 Steel
AMM2055 Matt Lucky Varnish
AMM0192 Polished Metal
AMM3009 Gun Metal
AMM0194 Matt Aluminium
AMM3021 Polished Metal
AMM0195 Silver
AMM3535 Oilbrusher Gun Metal
AMM1253 Streakingbrusher Grime
AMM3538 Oilbrusher Silver
AMM1256 Streakingbrusher Green-Grey Grime
AMM8212 Aqua Gloss Clear ALC600
AMM1617 PLW Blue Black
AMM8215 Airframe Aluminium ALC119
AMM1618 PLW Deep Brown
AMM8595 4 Synthetic Filb ert Brush
AMM2016 Transparator 17mL
AMM8612 2/0 Synthetic Round Brush
AMM2018 Enamel Odourless Thinner 35mL
AMM8613 #1 Synthetic Round Brush
Included are all necessary paints, weathering products and brushes, as well as the valuable resource How to Paint Bare Metal Aircrafts Solution Book which walk you through the finishing process with step-by-step tutorials in four languages (English, Spanish, French, and German).
SOLUTION BOOK is a simple and basic guide intended to help any modeller easily achieve similar results to those shown in each example. It doesn´t matter if the reader is a novice or a more seasoned and experienced modeller, by following the steps in this guide they will be able to obtain amazing results with the efficient and effective methods shown. SOLUTION BOOK´s new design allows you to follow each step in a very easy and intuitive manner without text by using a simple icon-based code demonstrating each effect. By following the steps shown in this guide, you will be able to achieve excellent results with very little effort.
View All
Close