AOA32010 1:32 AOA Decals - USN/USMC A-4E Skyhawks in the Vietnam War 'Combat Scooters' Part 1
SKU:

AOA32010

UPC:

MPN:

32010

Scale:

1/32

Subject:

A-4 Skyhawk
Frequently bought together:
Description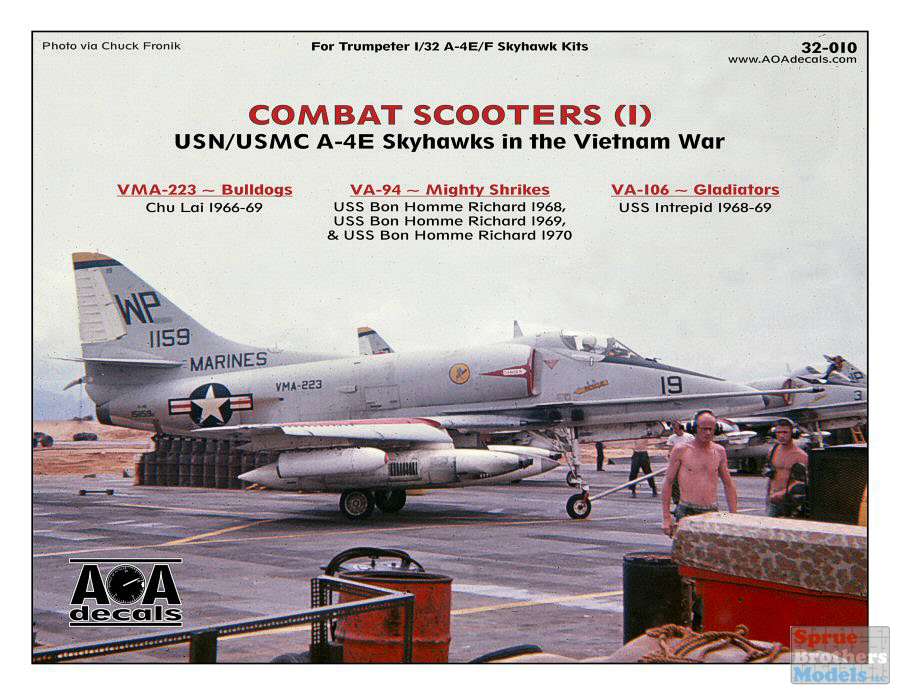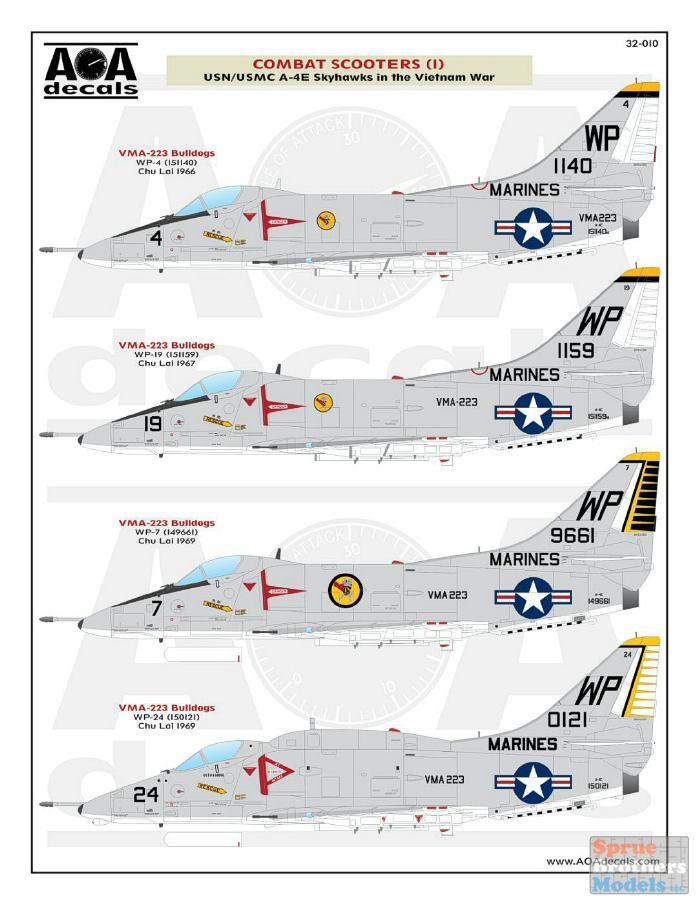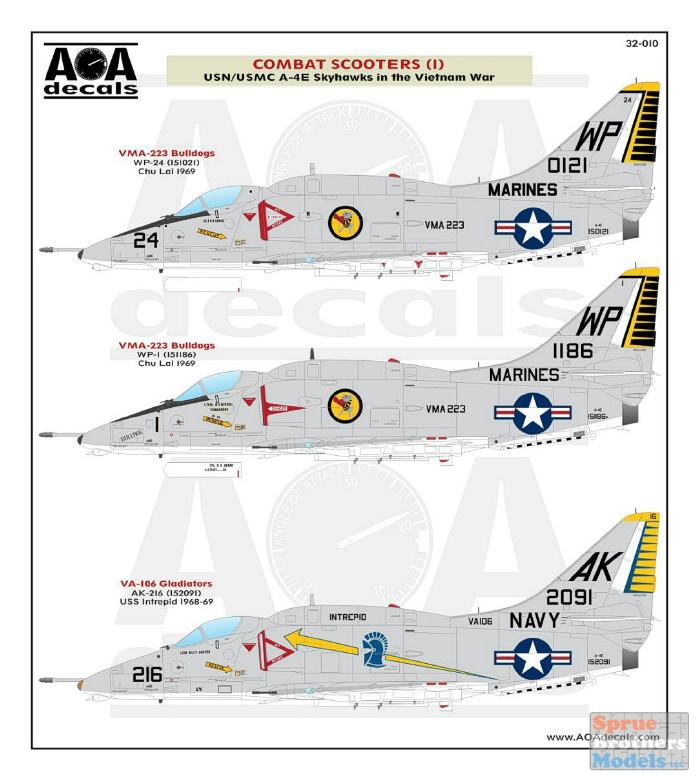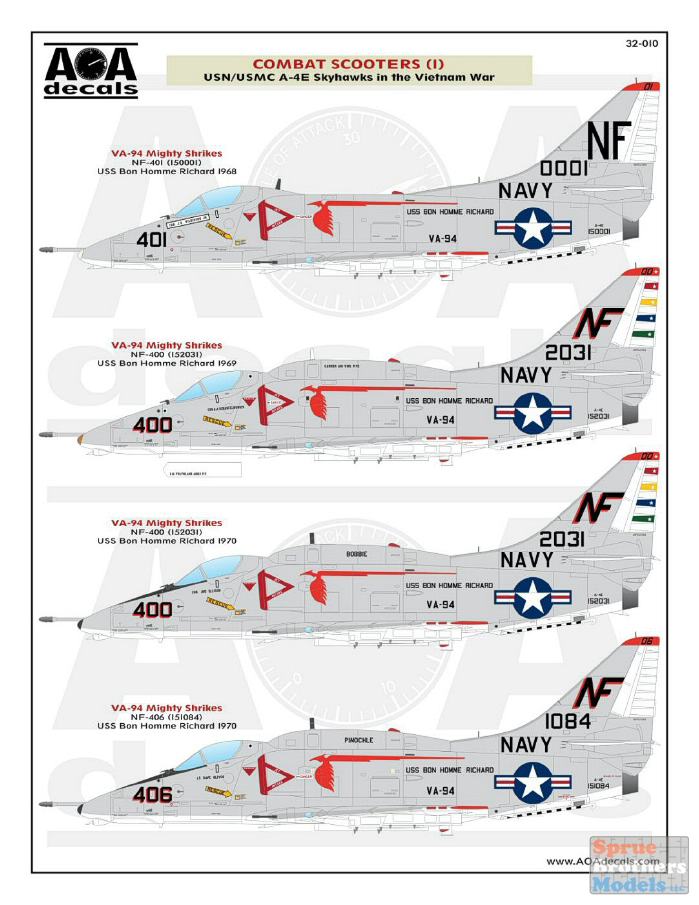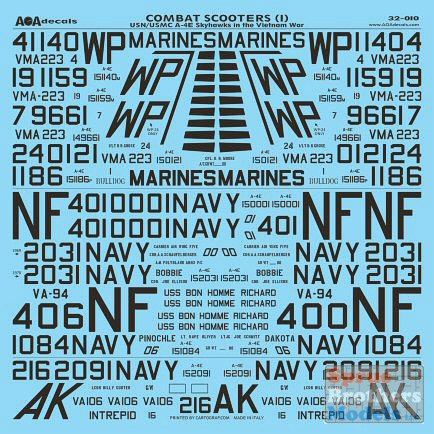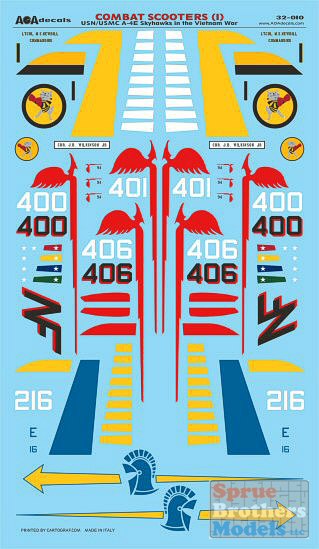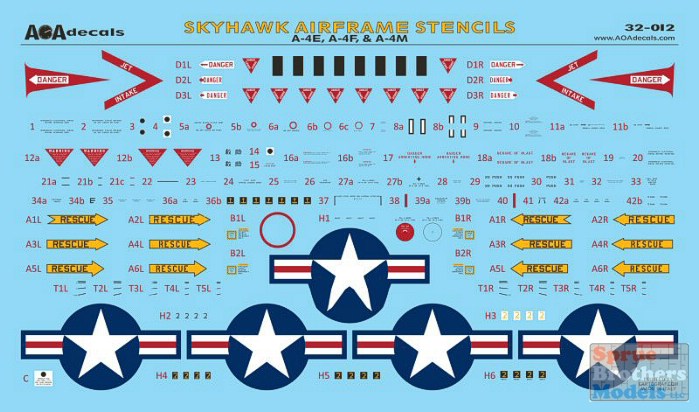 This Part 1 decal sheet focuses on three A-4E Skyhawk squadrons in the Vietnam War. Typical for AOA's coverage of Vietnam USN/USMC aircraft, this sheet also provides the modeler with the choice of time periods for a specific squadron; and in the case of the A-4, also a choice of aircraft with and without the later avionics hump. An exception unfortunately is VA-106, with only their second/final Vietnam cruise included (their first was the ill-fated USS Forrestal 1967 cruise).
The Trumpeter A-4F kit includes VA-94 decals of the CAG's "BOBBIE" aircraft from the 1970 USS Bon Homme Richard cruise and incorrectly identifies the aircraft as an A-4F when it was actually an A-4E. Since the kit decals are also very inaccurate (size, shape, colors, etc), the same scheme is provided on this AOA sheet that much more closely represent the actual markings carried. The same CAG aircraft can also be represented with this sheet when it wore somewhat different markings from the previous 1969 cruise.
The VMA-223 fuselage bulldog insignia is nearly always shown in illustrations and in previous decals with significant black outlining and details, presumably due to basing the appearance on more modern VMA-223 examples and/or squadron patch detail. However, the original sprayed on Vietnam-era period bulldog marking was much more basic than this! The bulldog decal insignia provided on this sheet was based on the actual Vietnam marking, and as such, is significantly closer in appearance to the original.
10 Marking Options Included:
- VMA-223 Bulldogs - 5 options from Chu Lai, South Vietnam, spanning betwen 1966-69
- VA-94 Mighty Shrikes - 4 options: 1 from USS Bon Homme Richard 1968, 1 from USS Bon Homme Richard 1969 (CAG scheme), and 2 from USS Bon Homme Richard 1970 (one CAG, one line scheme)
- VA-106 Gladiators - 1 option from USS Intrepid 1968-69
As usual with AOA releases, an extensive airframe stencil sheet is also included. Stencils are provided for one A-4; however, the stencil sheet is also available to purchase separately (see AOA32012).
Decals also included for VA-94 and VA-106 fuel tanks (VMA-223 generally had plain white fuel tanks without any squadron markings/identifiers.)
View All
Close