BMA48010 1:48 Bullseye Model Aviation Decals - P-51D Mustang Yoxford Boys #2
SKU:

BMA48010

UPC:

MPN:

48010

Scale:

1/48

Subject:

P-51 Mustang
Frequently bought together:
Description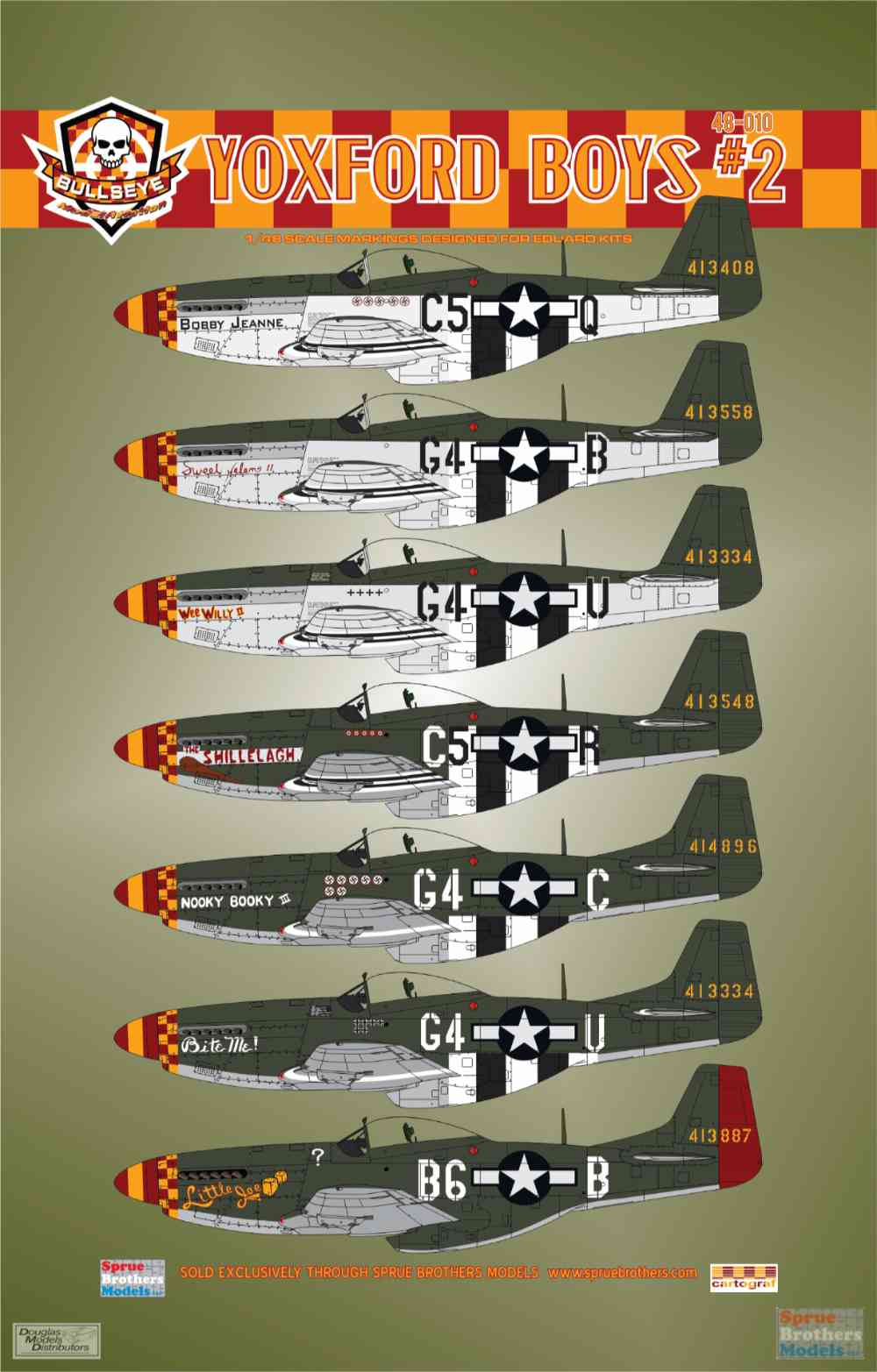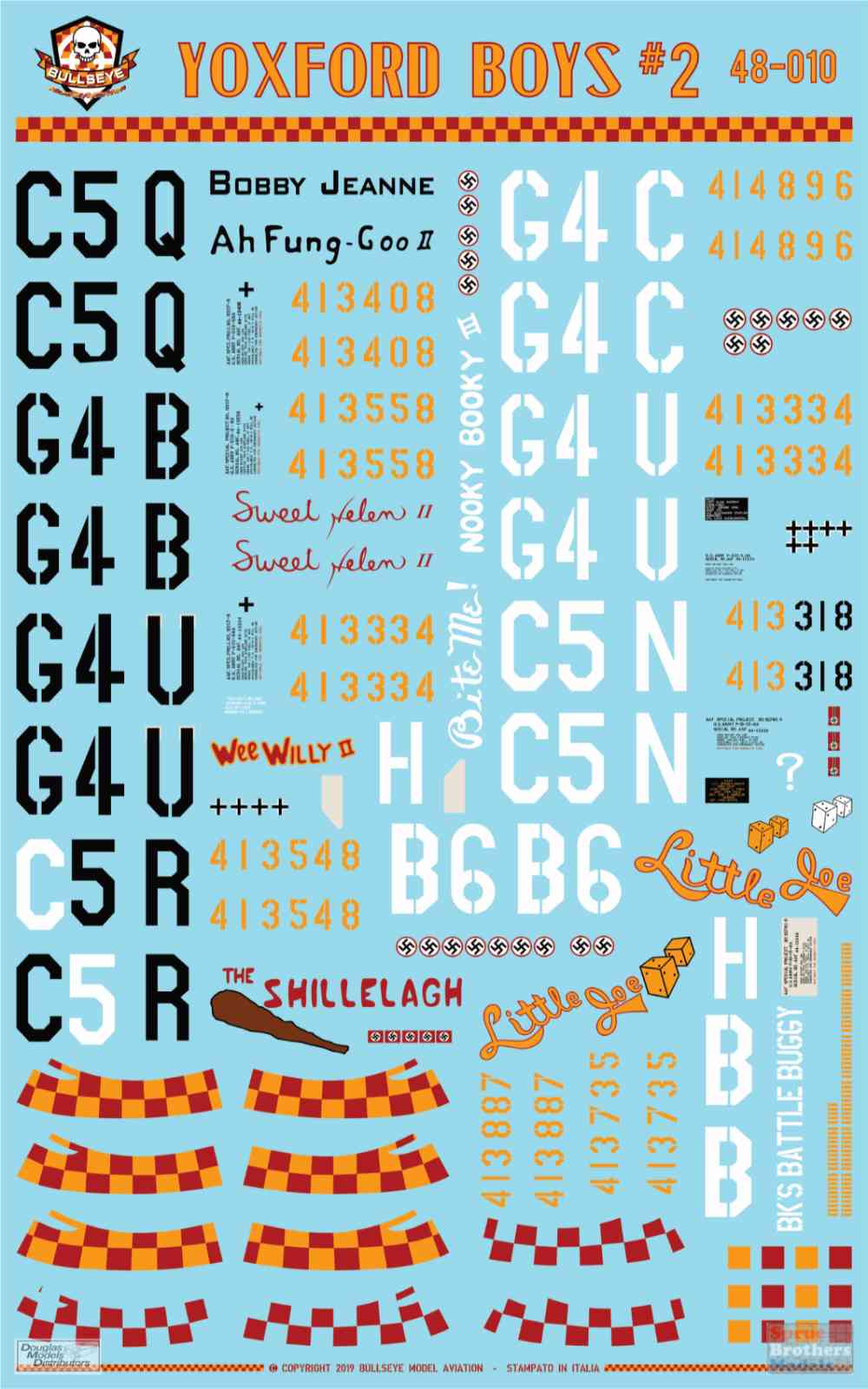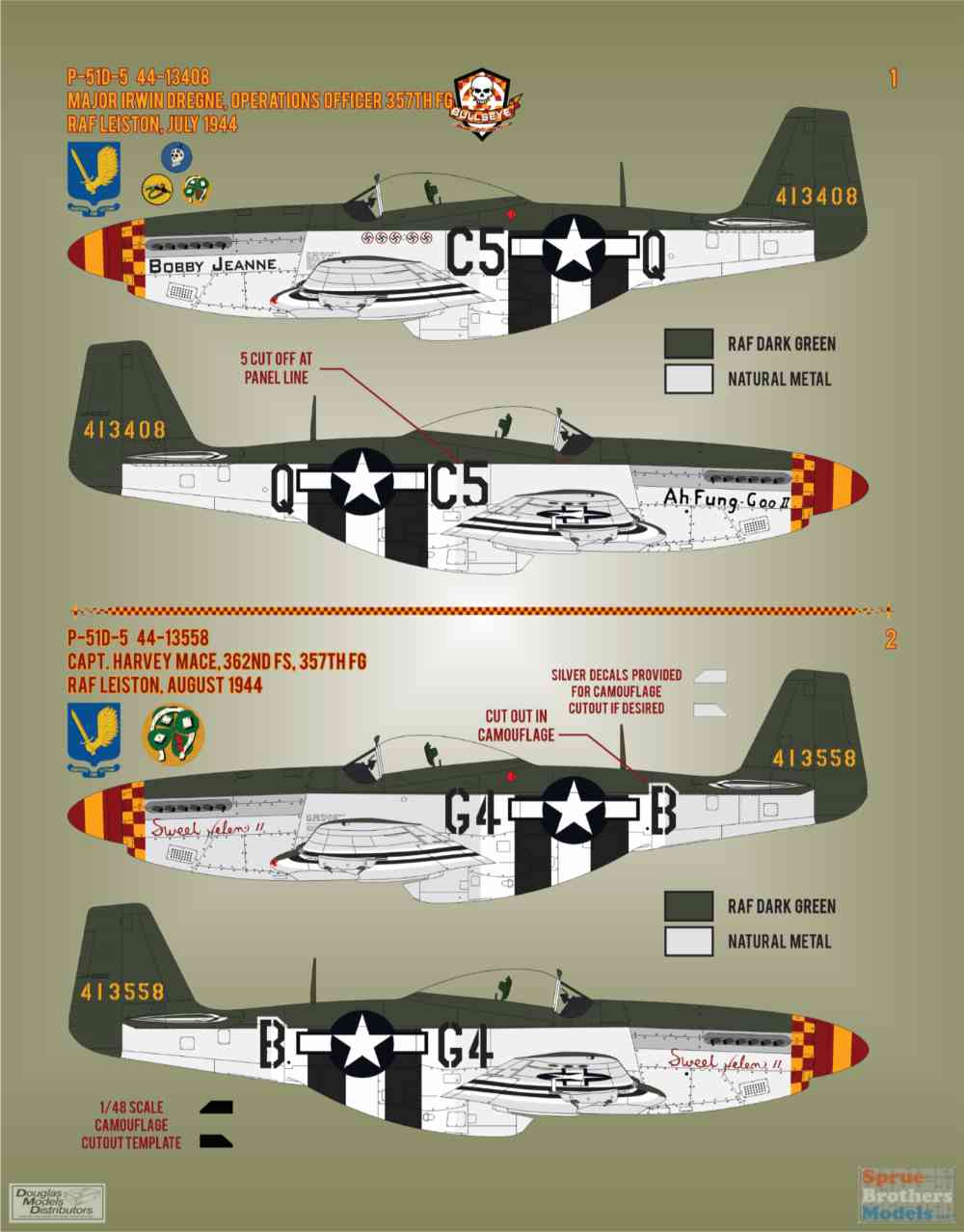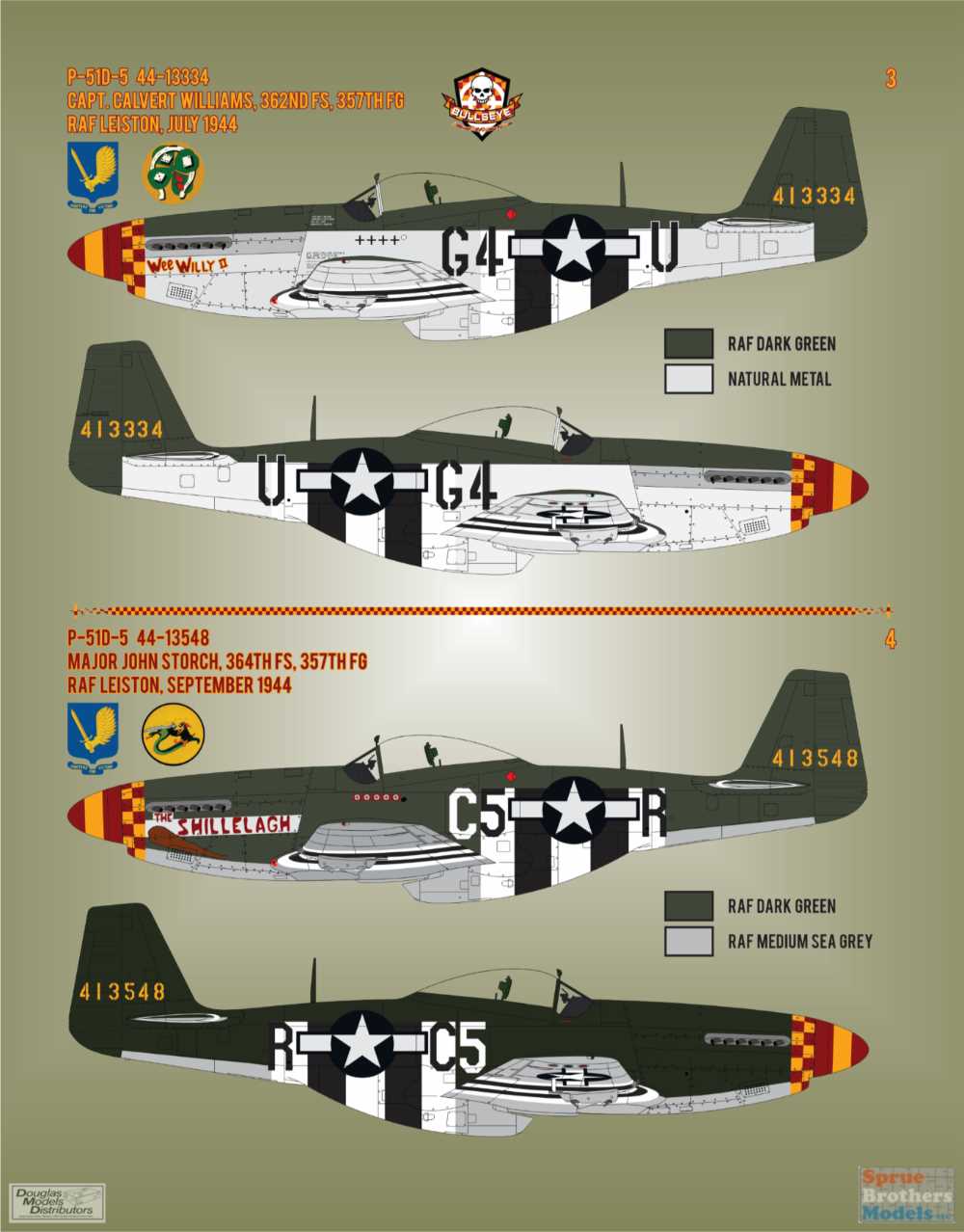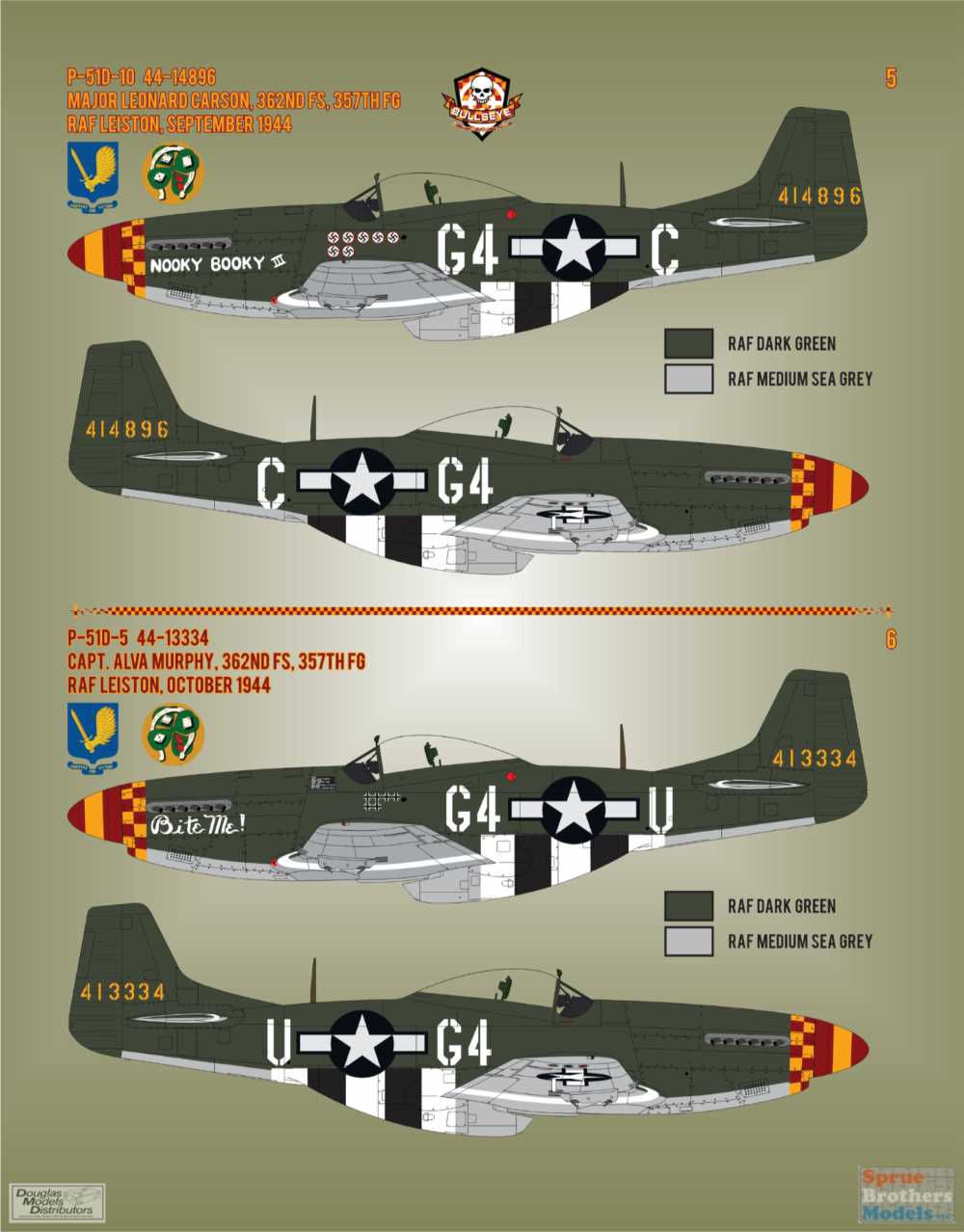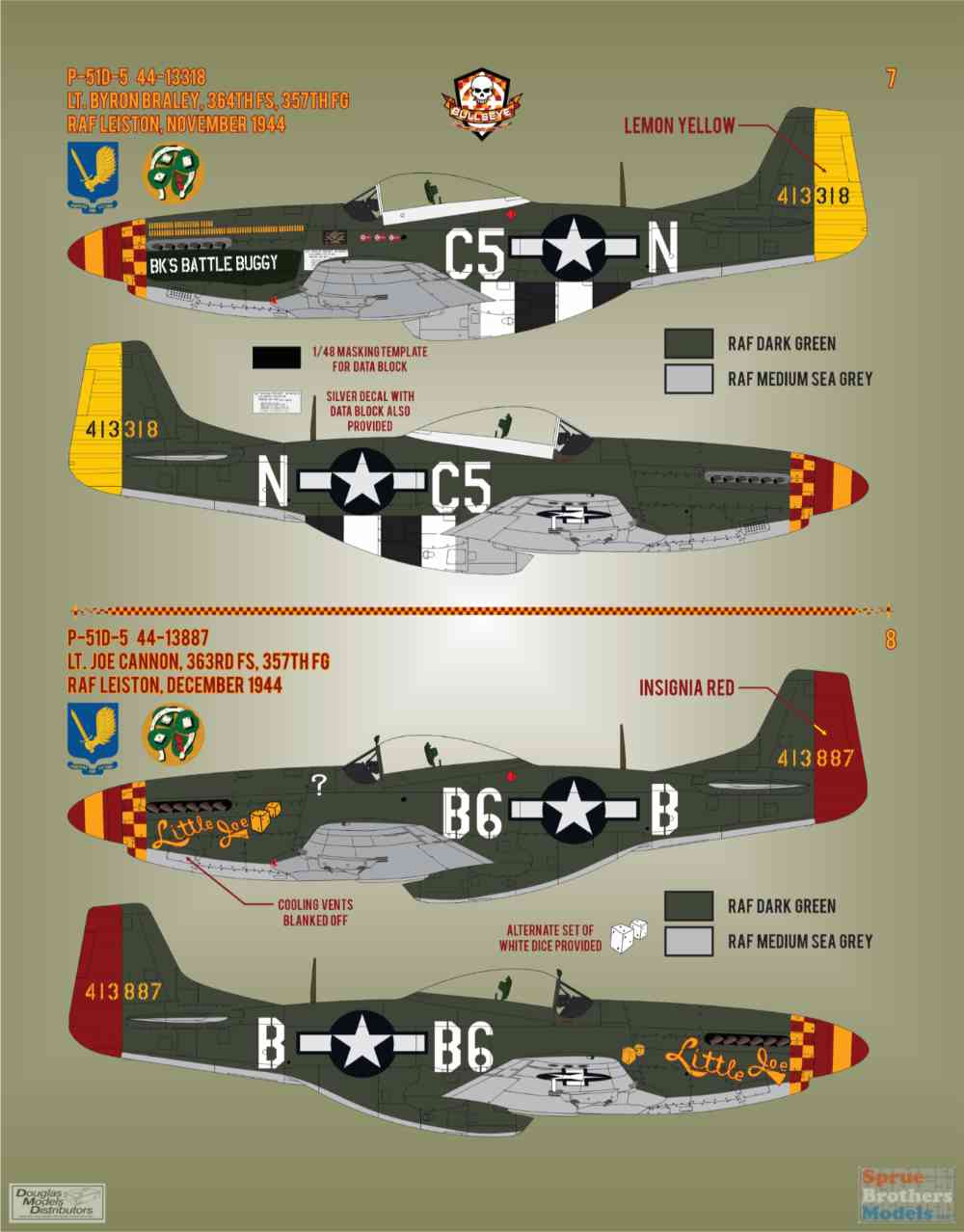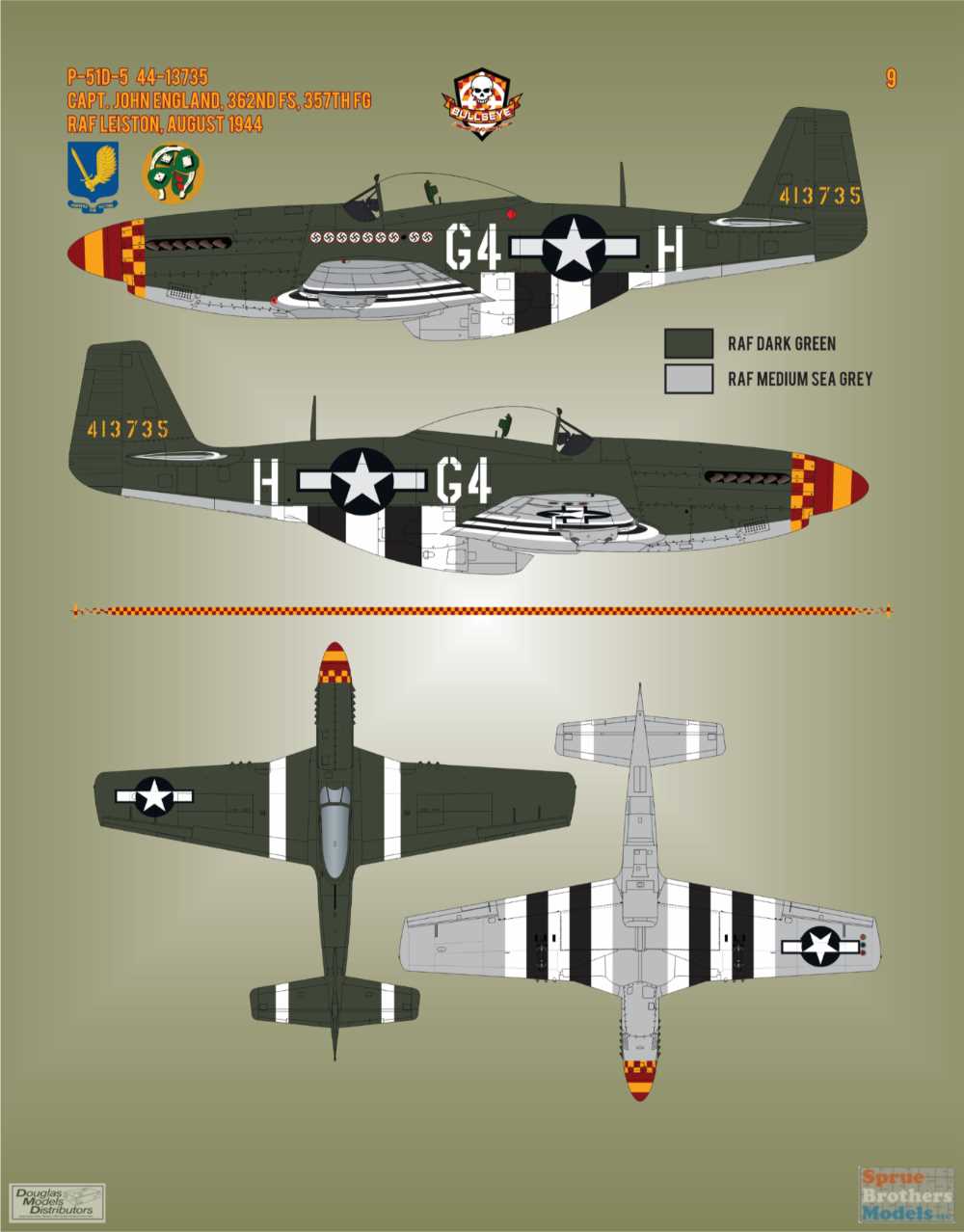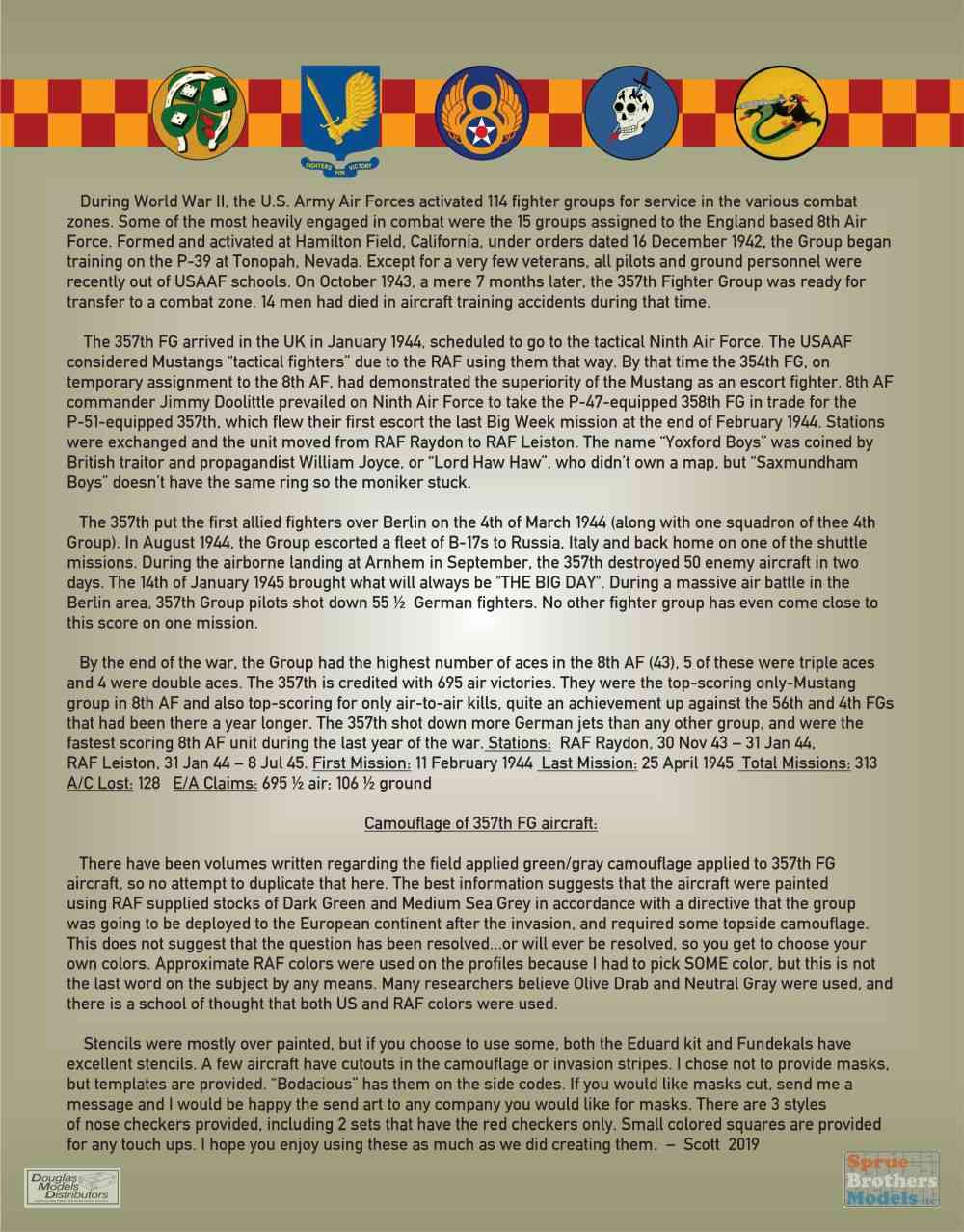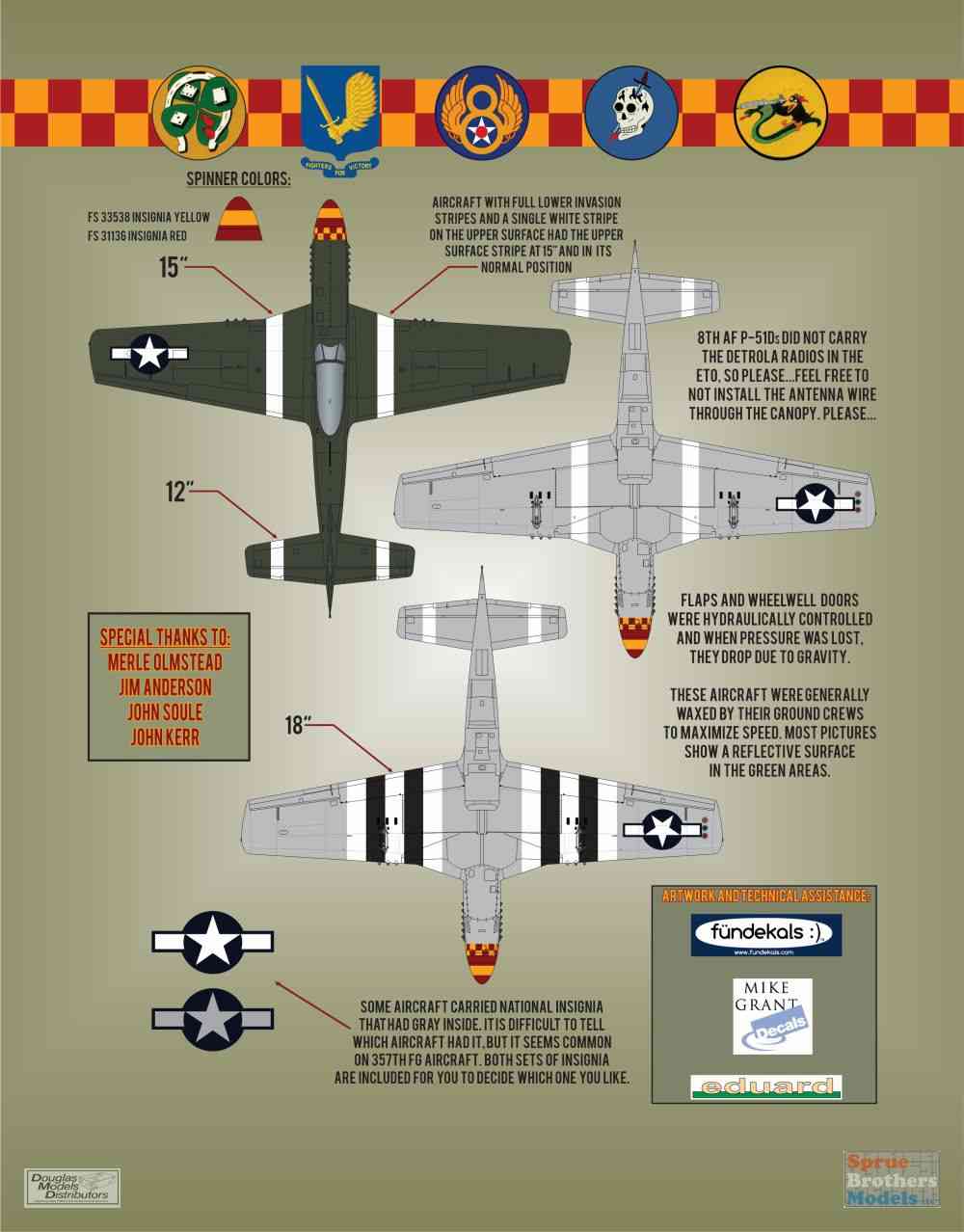 Marking options:
1) 44-13408 was flown by Col. Irwin Dregne, ƒ??Bobby Jeanneƒ? was named for his son and wife. Dregne
was an original Tonopah member of the group, and served in several capacities including
Group Ops. Officer, and was itƒ??s last wartime commander. Dregneƒ??s crew chief had his favorite
saying ƒ??Ah Fung Gooƒ? painted on the R side of the nose. Full set of invasion stripes on the lower
wings, shrouded exhaust.
2) Capt. Harvey Mace was assigned 44-13558 when it arrived new at Leiston. His previous aircraft
was a P-51B named for his wife, ƒ??Sweet Helenƒ? so he decided to christen his new plane
ƒ??Sweet Helen IIƒ?. Name was on both sides of the nose, full invasion stripes on the lower wings,
and ID stripe on the tops. Cutout for the B in the green areas. Shrouded exhaust.
3) 44-13334 was assigned to Lt. Calvert Williams who named it ƒ??Wee Willy IIƒ?. Williams was an
original member and had the distinction of gunning down an Me-109 on 20 February 1944, which
was the groups first kill. 334 carried a full set of lower wing invasion stripes, shrouded exhaust.
4) Major John Storch was a double ace, with 11 kills. He flew 3 aircraft while with the 357th, all
named after the Irish war club, ƒ??The Shillelaghƒ?. 44-13548 was his second mustang, and carried
his 5 existing kills under the windscreen. 548 was unusual in that the paint was removed from the
area where the name was. It carried a full set of lower wing invasion stripes, high fuselage stripes
common in the Fall of 1944. Storch later commanded the 362nd FS. Shrouded exhaust.
5) Capt. Leonard ƒ??Kitƒ? Carson was one of the 357th ƒ??Top Gunsƒ?, ended the war with 18.5 kills and
rose to command the 362nd FS. He was the top ace of the group and flew 4 mustangs, all named
ƒ??Nooky Bookyƒ?. 44-14896 was his third aircraft, and as one of the aces traded in his earlier
P-51D-5 on a new D-10. It carried his 7 kills at the time on the side, normal ID stripes and the
lowered fuselage ID stripes. Photos exist of it without the nose name on it.
6) Major Alva Murphy was another hot stick in the 362nd. He was a replacement pilot, but arrived
with experience and courage, serving as the 364th Operations Officer later in the war.
In this spirit, he named his mustang ƒ??Bite Meƒ?. He died under mysterious circumstances, after
shooting down 2 Me-109s on March 2, 1945 he was shot down while strafing an airfield. After
bailing out successfully he was reported by the Germans as having died. It is believed that he was
the 3rd 357th member murdered after capture. 334 was originally Calvert Williamsƒ?? ƒ??Wee Willy IIƒ?.
7) 44-13887 belonged to Joe Cannonƒ??s crew chief, Frank Fah but he loaned it out to Joe occasionally
to take to Germany and rain down destruction. 887 was a P-51D-5 but it served through the end
of the war after receiving several modifications. 887 received a retrofit tail fillet, a new K-14
gunsight and eventually had all the invasion stripes removed, the camouflage paint extended past
wings and a bright red rudder signifying itƒ??s membership in the 363rd FS. Joe was a dice shooter
and while itƒ??s confidently thought that the pair ƒ??o dice on the L side was yellow, the R side has more
conjecture. Both white and yellow are provided.
8) 1st Lt. Byron K. Braley was a replacement pilot in the 364th and almost immediately had success,
scoring kills on successive days, 9/18 and 9/19 1944. His former squadron CO, Tommy Hayes
got bumped up to Deputy Group Commander, but maintained and aircraft in the 364th...one of the
most beautiful P-51s ever, ƒ??Frenesiƒ?. When Hayes rotated home, Lt. Braley inherited a great P-51
but more importantly, itƒ??s experienced crew. S/Sgt Krull insisted that Braley choose a new name
for 44-13318, so Braley decided on ƒ??Bkƒ??s Battle Buggyƒ?, which was painted on the nose. Krull
kept the mission marks on the cowling and added Braleyƒ??s name to the crew block and Braleyƒ??s
earlier kills. By late fall the ID stripes on the wings had been removed, but retained the fuselage
stripes. 318 got a new tail fillet, a K-14 sight and a replacement canopy. Shrouded exhaust.
9) 44-13735 was flown by Capt. Johnny England for the ƒ??FRANTICƒ? shuttle mission to Russia is early
August 1944. Like so many other original members of the group, he was assigned a P-51D after
returning from leave for a 2nd tour, giving up his trusty B ƒ??Uƒ??ve Had Itƒ?. There is no evidence that
he named 735, and he was assigned a newer D-10 later in August ƒ??MISSOURI ARMADAƒ?.
735 carried Englandƒ??s kill markings, low fuselage stripes and very wide under wing stripes.
Non-Shrouded exhaust.
View All
Close