DAS9555 Detail & Scale Books - SBD Dauntless
SKU:

DAS9555

UPC:

9781973289555

MPN:

9555

Scale:

Not Applicable

Subject:

SBD Dauntless
Frequently bought together:
Description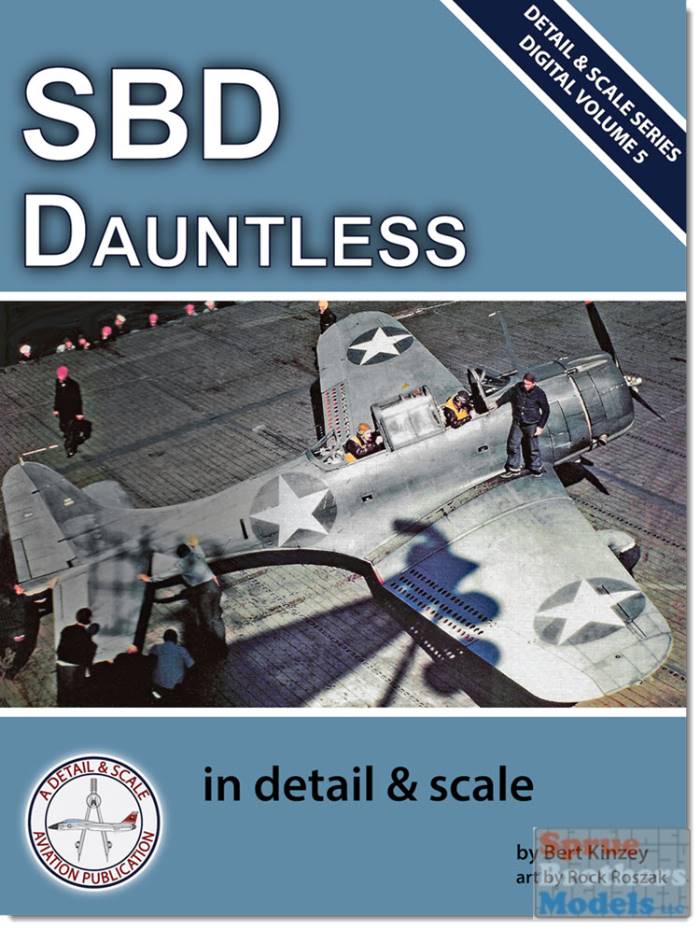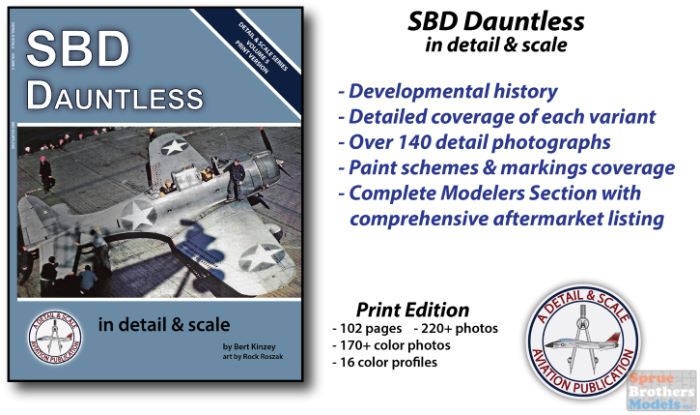 By Bert Kinzey and Rock Roszak; softbound; 102 pages
About the Book:
The Digital Detail & Scale Series continues with the newest title, SBD Dauntless in Detail & Scale, covering the development, history, and details of one of the few U. S. combat aircraft to serve throughout World War II, from the attack on Pearl Harbor until VJ Day. Over the past 35 years, Detail & Scale published six monographs, 69 full sized volumes, and now a total of three digital publication titles in the well-respected Detail & Scale Series. SBD Dauntless in Detail & Scale continues the series focus on specific aircraft details, including cockpit, canopy, fuselage, wings, landing gear, engine and armament, and it also includes chapters on the different aircraft variants, the colors and markings of the SBD, and a modelers section.
Book Features:
Features of Detail & Scale‹¨«??s latest publication, SBD Dauntless in Detail & Scale include:
A developmental history of the Dauntless, from it‹¨«??s inception as a Northrop design through its use by foreign countries in post-war operations.
A chapter on Dauntless variants that covers the SBD-1 through SBD-6 Dauntless and the A-24 Banshee, explaining the differences in configuration on all variants.
A Dauntless Details chapter with over 140 photographs, mostly in color, that cover every aspect of the aircraft, including cockpit, canopy, fuselage, wing, landing gear, tail, engine, offensive armament, and both fixed and flexible gun armament details.
A chapter devoted to the colors and markings used on the SBD Dauntless, from the pre-war ‹¨«??Yellow Wing‹¨«?‹¨« scheme through the evolutionary changes in camouflage systems and placement and composition of markings.
Detail & Scale‹¨«??s usual Modelers Section that discusses, reviews, and illustrates scale models of the Dauntless over the past 50+ years!
Other features of the book include line drawings of every Dauntless variant and the A-24 Banshee, illustrations of details from official Navy manuals, plus 17 full color art profiles of the aircraft in a variety of color scheme.
View All
Close