SBD48006 1:48 SB Decals US Navy SH-3 Sea Kings in Hi-Vis Part 1
SKU:

SBD48006

UPC:

728795502515

MPN:

Scale:

1/48

Subject:

SH-3 Sea King
Frequently bought together:
Description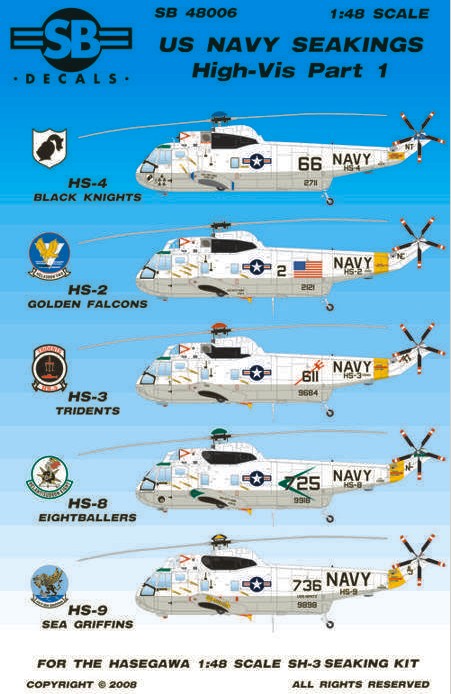 Limited Edition release
Sheet includes markings for two full aircraft out of the five options listed below
8.5 inch x 11 inch large format
All color marking placement guide
The five markings options included are:
HS-4 Black Knights

SH-3D Bu No. 152711 - BuNo 152711 was probably the most famous SeaKing, having participated in the recovery of five Apollo spacecaft. After the Navy changed its fleet numbering system, her old number 66 was applied for Apollo recovery missions. The five capsules adorning her nose represented recoveries of Apollos 8, 10, 11, 12, and 13. She is shown while flying from USS Iwo Jima (LPH 2) shortly after the Apollo 13 mission of April, 1972. SeaKing 66 was lost off the California coast in June, 1975 on a training mission.

HS-2 Golden Falcons

SH-3H BuNo 152121 - HC-2 was the only SeaKing unit to display the Stars and Stripes on all its helicopters. BuNo 152121 served many years with HS-2 and is depicted when assigned to CVW-2 aboard USS Kitty Hawk (CV 63) in 1984.

HS-3 Tridents

SH-3H BuNo 149684 - SH-3H SeaKing BuNo 149682 was assigned to HS-3 during the 1982 Mediterranean cruise of USS Forrestal (CV 59) and CVW-17.

HS-8 Eightballers

SH-3H BuNo 149918 - HS-8, with SeaKing BuNo 149918, was aboard for USS Kitty Hawk (CV 63) for her 1979 WestPac cruise.

HS-9 Sea Griffins

SH-3H BuNo 149898 - The Sea Griffins of HS-9 were part of CVW-8 for the second Mediterranean cruise of USS
Nimitz (CVN 68) which lasted from December 1977 until July 1978. Sea Kings from this unit were featured in well known movie

The Final Countdown.
View All
Close