TAM60788 1:72 Tamiya F-16CJ Block 50 Fighting Falcon with Full Equipment
SKU:

TAM60788

UPC:

4950344607884

MPN:

60788

Scale:

1/72

Subject:

F-16 Falcon
Frequently bought together:
Description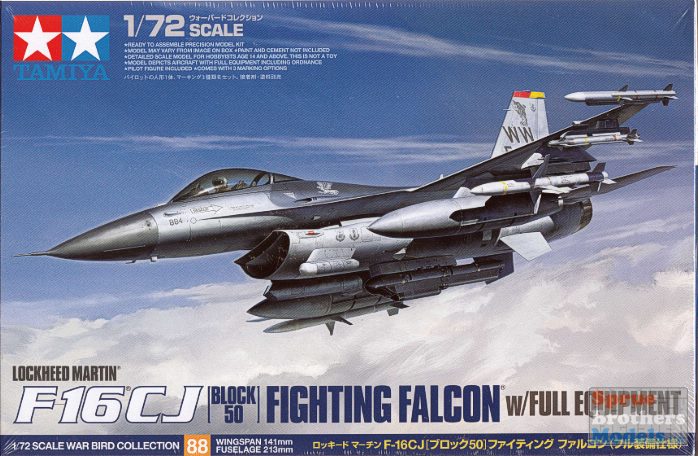 This is the second release of the 1/72 scale F-16CJ [Block 50] Fighting Falcon (original Tamiya release: Item 60786) now with parts depicting underside equipment used on the aircraft! The versatile F-16 Fighting Falcon's adaptability to both air-to-air and air-to-ground missions makes it one of the cornerstones of the U.S. Air Force today. Block 50 evolutions of the aircraft were deployed from 1991, F-16CJ fighters being fitted with radar countermeasures. The aircraft's capabilities were extended yet further via the CCIP program, which gave night fighter functionality and more.
Equipment depicted using new parts
Centerline fuel tank
Wing underside fuel tanks
ECM counter measures pod
AGM-88 HARM missiles
AN/ASQ-213 HTS targeting pod
AIM-120 AMRAAM missiles
AIM-9M & -9X Sidewinder missiles
AN/AAQ-33 Sniper XR pod
Type
Detail
Scale
1/72
Construction type
Assembly kit
Photo-etch parts
Not included
Decals
Included
Special feature 1
Bubble canopy is rendered accurately using a slide-molded one-piece part.
Special feature 2
Comes with 3 marking options included.
Special feature 3
Included figure recreates a pilot in seated position
View All
Close