ZVE6134 Zvezda Historical Wargame - World War II Barbarossa 1941
SKU:

ZVE6134

UPC:

4600327061348

MPN:

6134

Scale:

Not Applicable
Frequently bought together:
Description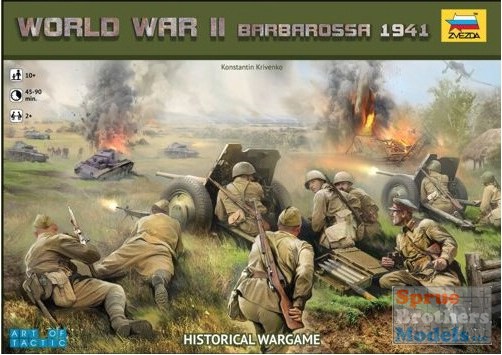 Historical Wargame
Zvezda's board game "Great Patriotic War 1941" includes figures and vehicles which were delivered with a new "Wargame" magazine called "Great Sieges:Military history of Russia."
The figures are in 1/72 scale, and the vehicles are primarily 1/100 (15mm), so slightly smaller than would be expected when put alongside the soldiers. The production line includes not only figures and tanks, but also AT-guns, AA-guns, howitzers, trucks and planes!
Game contains:
54 infantry miniatures
5 armor and trucks miniatures
1 airplane miniature
4 artillery miniatures
a set of obstacles and constructions
6 double sided playing board parts
30 terrain hexes
6 terrain height hexes
29 game cards
rules of the game
scenarios booklet
2 crib sheets
2 pen
Operation Barbarossa 1941 ist ein historisches taktisches Spiel, das auf der deutschen Invasion Russlands w??hrend des 2.WK basiert. Das Spiel hat eine einzigartige Mechanik, die dank leichter Regeln einen schnellen Spieleinstieg garantiert. Variable Spielbretter
In 1941, the German Wehrmacht invaded the Soviet Union. The result was the largest conflict ever between two nations, with millions of men fighting on both sides. The storm of war is spreading over Europe. World War II: Barbarossa 1941 puts you in command of the brave soldiers fighting in this mighty conflict. The unique, simultaneous play mechanic keeps the action intense, while the variable game board and terrain tiles allow players to create a new battlefield every time they play. Exciting scenarios are also included, complete with historical information and challenging tactical missions.
View All
Close