ACA12263 1:48 Academy MiG-29A Fulcrum
SKU:

ACA12263

UPC:

603550021169

MPN:

12263

Scale:

1/48
Frequently bought together:
Description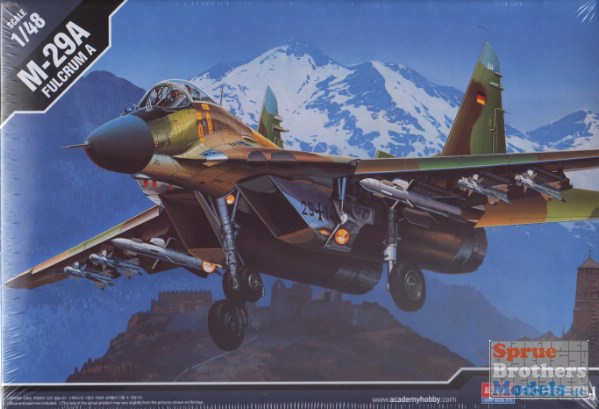 With over 1,000 MIG-29 Fulcrums produced between 1977 and 1992, it must be recognized that the MIG-29 is one of the three or four most important fighter aircraft in the air today.

The MIG-29 was designed in the early '70s to equal or surpass the performance of any known western block fighter. With its extreme agility, the MIG-29 is certainly an equal to the F-16 and probably its superior in many aspects such as twin-engine reliability and ease of maintenance. Five mechanics can remove and replace and test an engine in one hour or less! The MIG-29 was designed for easy field maintenance with a minimum of skilled labor.

Powered by the RD-33 turbofan engines, a fully loaded Fulcrum can take off on one engine and subsequently air-start the second engine after lifting off. Armed with air-to-air AA-10, AA-11 or AA-8 missiles, the Fulcrum is more than equal in air-to-air combat. For the ground attack role, the MIG-29 can carry the UB-32-57 rocket pods or the larger unguided S-8K rockets. Additionally, each MIG carries an internal 30mm cannon and 150 rounds of ammunition. The GSh-301 cannon is known for its very fine accuracy.

Flown by all former Soviet-bloc nations and many customer-client countries, the MIG-29A will be one of the most important fighters well into the 21st century.


Highly detailed cockpit interior and landing gear compartment.
Fully engraved panel lines and raised letter tires.
Optional position air brake, auxiliary air intakes.
Full complement of under-wing weapons.
View All
Close