AOA32014 1:32 AOA Decals - USN/USMC A-4E A-4F Skyhawks in the Vietnam War 'Combat Scooters' Part 4
SKU:

AOA32014

UPC:

MPN:

32014

Scale:

1/32

Subject:

A-4 Skyhawk
Frequently bought together:
Description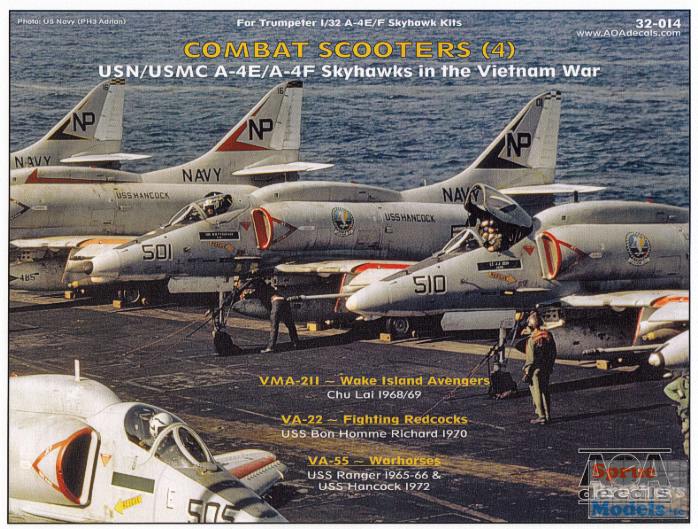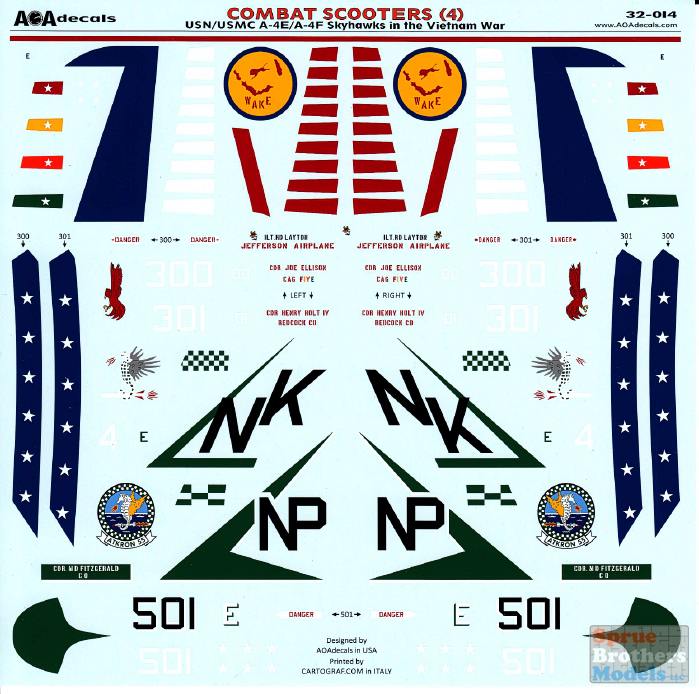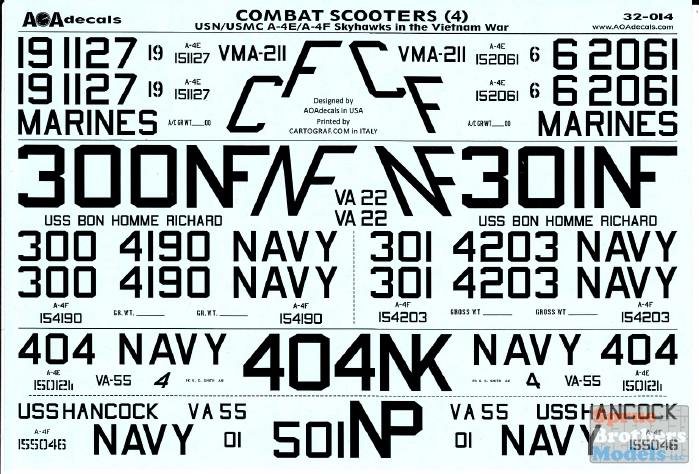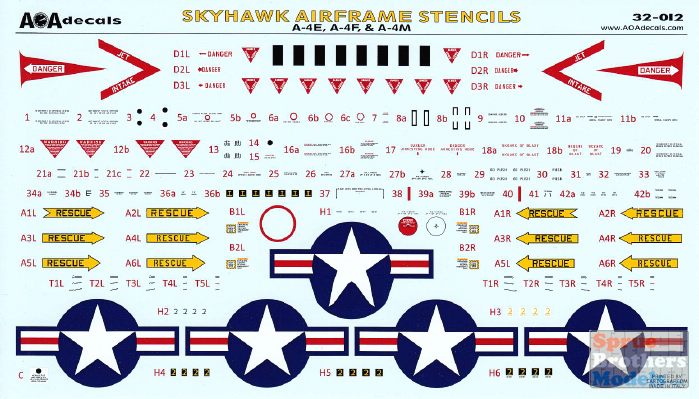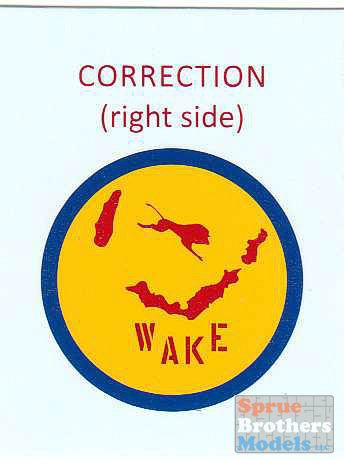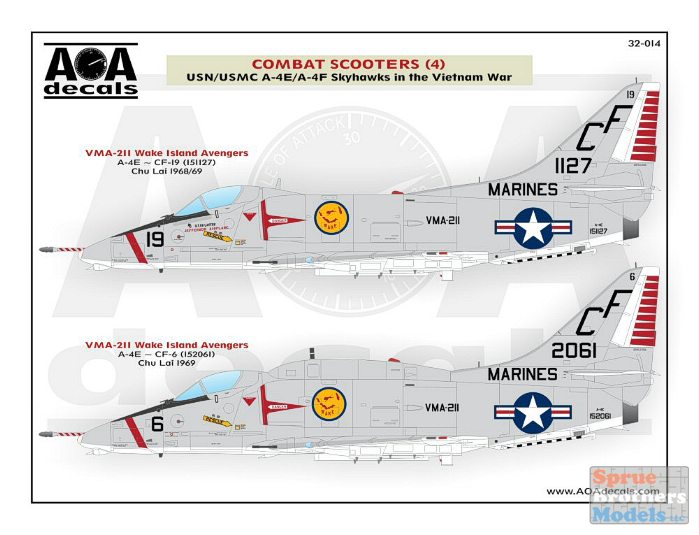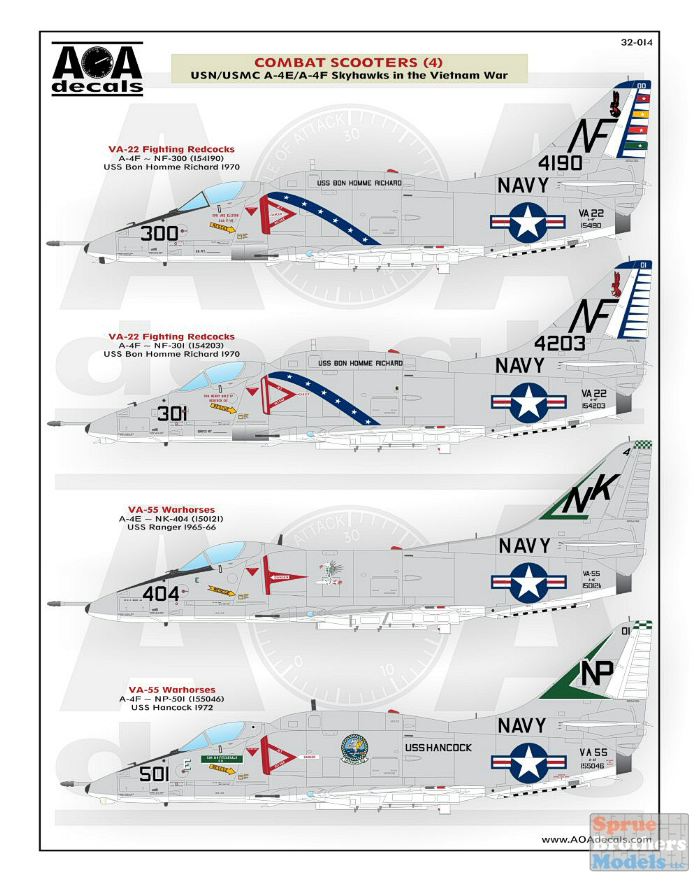 This Part 4 decal sheet focuses on three more A-4E/A-4F Skyhawk squadrons in the Vietnam War. Typical for AOA's coverage of Vietnam USN/USMC aircraft, this sheet also provides the modeler with the choice of time periods for a specific squadron, and in the case of the A-4, also a choice of aircraft with and without the later avionics hump. An exception is VA-22, who switched directly to the A-4F for their 1969 Bon Homme Richard cruise from the earlier A-4C. Their 1969 A-4F scheme looked the same as their 1970 Bon Homme Richard cruise with the exception of not having the large BuNo painted on the tail, so only the 1970 was chosen for representation on this release. Earlier wartime VMA-211 schemes featured different squadron insignias on the tail and the fuselage are unfortunately not covered due to not having satisfactory references at the time of printing to cover them accurately enough.
6 Marking Options Included:
VMA-211 Wake Island Avengers - 2 A-4E options from Chu Lai, South Vietnam betwen 1968-69
VA-22 Fighting Redcocks - 2 A-4F options from USS Bon Homme Richard 1970 (one CAG, one line scheme)
VA-55 Warhorses - 2 options, one A-4E from USS Ranger 1965-66 and one A-4F from USS Hancock 1972
As usual with AOA releases, an extensive airframe stencil sheet is also included. Stencils are provided for one A-4; however, the stencil sheet is also available to purchase separately (see 32-012).
Decals also included for 1972 VA-55 fuel tanks (VMA-211 generally had plain white fuel tanks without any squadron markings/identifiers and VA-22 had blue tipped tanks.)
View All
Close