CHC5080 1:72 Cyber Hobby F6F-5N Hellcat - Wing Tech Series
SKU:

CHC5080

UPC:

MPN:

Scale:

1/72
Frequently bought together:
Description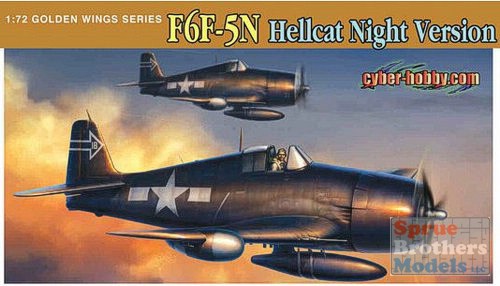 Features:
- Newly tooled wings can be assembled open/closed
- Newly tooled engine exhibits delicate detail
- 20mm cannon for F6F-5N newly produced
- 1/72 scale F6F-5N Hellcat authentically presented
- Cockpit interior details including pilot's seat and control panel
- Detailed F6F-5N fuselage presented true-to-scale with correct shape
- Fuselage possess metal-skinned details
- Detailed cockpit canopy made from clear parts
- Canopy can be assembled open/closed
- Aileron can be assembled in different positions
- Rudders can be modeled in different positions
- Landing gear can be assembled in taxing or folded position
- Realistic AN/APS-6 Radar unit
- Intricate 5" HVARS and 500lb bomb included
The Grumman F6F Hellcat was a phenomenally successful fighter during WWII, so much so that it achieved a kill-to-loss ratio of 19:1 in the Pacific theater. Hellcats destroyed a total of 5,163 enemy aircraft, making it the most successful aircraft in naval history. This aircraft carrier-based fighter was introduced in 1943, replacing the F4F Wildcat. Powered by a 2000hp Pratt & Whitney R-2800 engine, it could achieve speeds of 610km/h. One special Hellcat variant was the F6F-5N, which was a night-fighter. To help perform its mission, the Hellcat was fitted with AN/APS-6 radar in addition to its four .50-caliber machine guns and two 20mm cannons. This radar system was mounted in a pod on the starboard wing, and it aided the pilot in detecting and attacking enemy aircraft during the hours of darkness.
Cyber Hobby is proud to be introducing a brand new 1/72 scale plastic kit of the F6F-5N Hellcat. Not only is this the very first 1/72 WWII American subject from Cyber-Hobby, but it?s also the first American item in the famed Wing-Tech range. Thus, this kit marks something of a milestone, and the completely new tooling certainly lives up to its Wing-Tech billing. The model can be depicted with the wings folded up or down, just like the original carrier-borne aircraft. Furthermore, the undercarriage can be depicted raised or lowered as well. Full engine detail is provided, allowing modelers to show off the inherent detail should they choose to do so. Panel lines are sharply scribed, giving this model an aura of extreme realism. In fact the panel lines are engraved by laser, ensuring the lines maintain a precise depth, even on curved surfaces like the fuselage. This new kit is an exciting addition to the Wing-Tech range, and it will look equally impressive by day or by night!
View All
Close