CSM35007 1:35 Copper State Models Russian RB Armoured Car
SKU:

CSM35007

UPC:

4751032600442

MPN:

35007

Scale:

1/35
Frequently bought together:
Description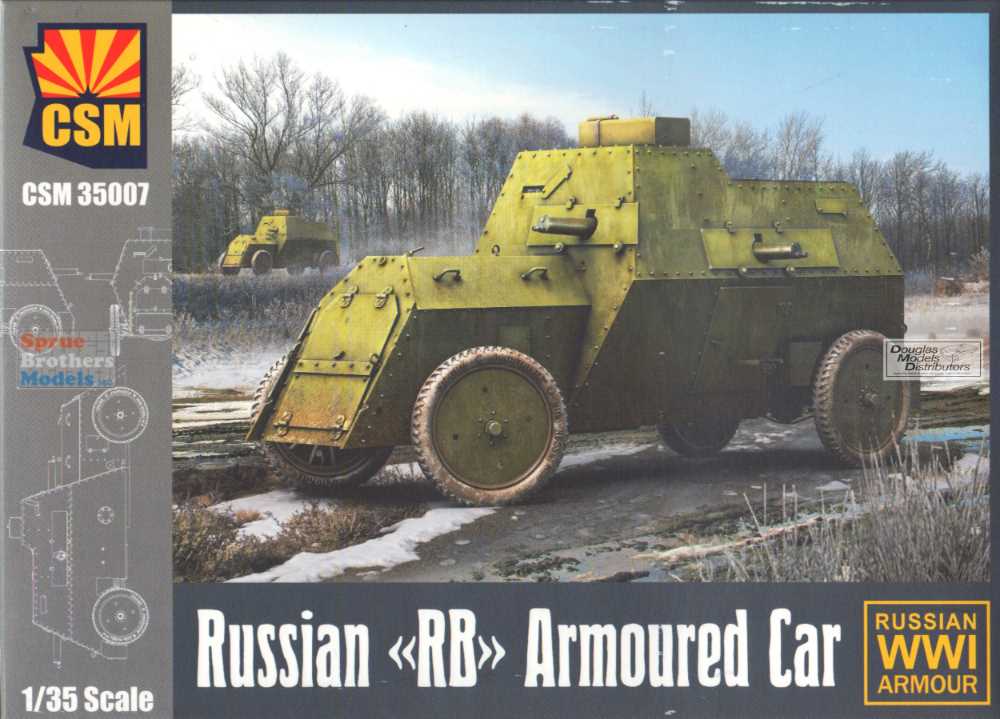 The most successful of the early Russian armoured vehicles was the Russo-Balt line of armoured vehicles. Most of them mounted machine guns, but a few mounted cannon.
The first and most popular car produced by Russian-Balt was the Type C – the heir to the Belgian Fondu 24/30hp. The Russo-Balt C was repeatedly modernized, with increases in power, upgraded frame and springs, and improvements to radiators, gearboxes and other components. By 1914, the vehicles being produced were the Russo-Balt Type C 24/40hp 18 Series, where the two-part model number denotes the nominal engine power and the maximum engine power. The 4.5-litre four-cylinder engine could propel passenger versions of the vehicle to 75-80 km/h.
With the outbreak of war, seven chassis were sent to St. Petersburg to the Izhora Factory, which served as the basis for a proposed fleet of Russian armoured cars.
Each vehicle was equipped with three 7.62-mm Maxim machine guns in a triangle arrangement that allowed them to fire on potential targets with at least two guns at a time. Two guns were fixed in the hull sides, and the third gun, mounted in the rear, could be switched from side to side as well as deployed against aerial targets through an opening in the hull roof.
One of the remarkable engagements for the Russo-Balt armoured cars occurred on Feb. 3, 1915, when four of the cars moved forward along the Belskoe Highway toward the village of Tsiulkuvla and encountered three battalions of enemy infantry. With their own infantry support more than 10 kilometres behind them, armoured cars of the second and third platoons nevertheless opened fire on the enemy, immediately causing confusion and panic among their ranks. Targeted by German artillery, one Russian gunner was killed, and three of the armoured cars were immobilized, but the enemy infantry retreated.
The First Auto-Machine Gun Company was in continual active service from 1914 until September 1916, when it was reorganized into the First Armored Division in the 42nd Army Corps. It served in Finland until 1917 and was sent to the Northern Front near Dvinsk shortly before the Russian Revolution.
Russo-Balt armoured cars were involved in the civil war in Russia, and in 1921, one Russo-Balt served at the Tank Training Brigade School, and another served with the Red Army until 1923.
Russian "RB" Armoured car-kit:
- 4 runners of grey plastic
-Cartograf printed decals
-Instruction in colour
- Russo-Balt Broushore (only for pre-ordered version) about the history of RB Armoured car and their service in WWI.
View All
Close