DAS6899 Detail & Scale Books - Attack Aircraft of the US Navy and Marine Corps
SKU:

DAS6899

UPC:

9798802056899

MPN:

6899

Scale:

Not Applicable
Frequently bought together:
Description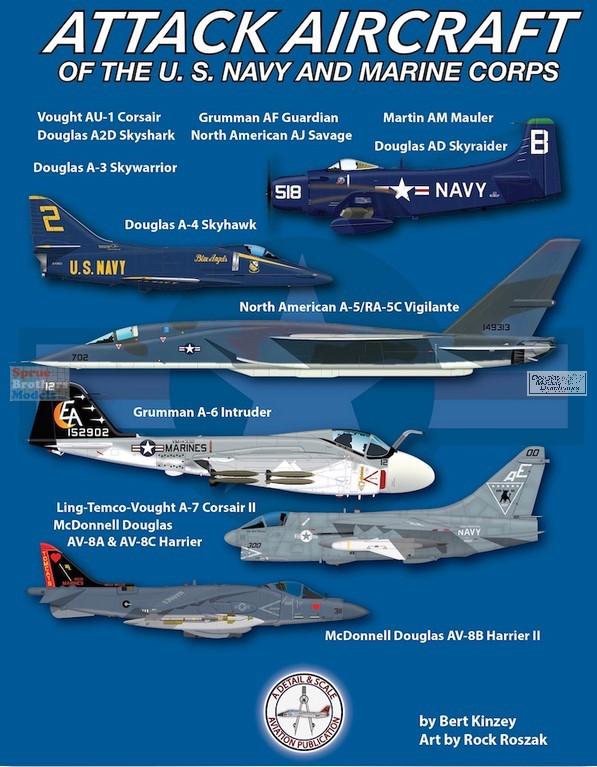 By Bert Kinzey and Rock Roszak; softbound; 113 pages
This fourth volume in Detail & Scale's look at U. S. Navy and Marine Corps carrier-based aircraft focuses on the attack aircraft types that came into being as World War II came to an end as the Navy combined the roles and capabilities of the scout/dive bomber and the torpedo bomber into a single aircraft type. These attack aircraft continued to provide the Navy and Marines with their carrier-capable striking ability until the mid-1990s. Thirteen different aircraft are covered in this publication, and among them are some of the most iconic aircraft in military aviation history. These include the Douglas AD Skyraider, which remains one of the most versatile aircraft ever produced, the diminutive Douglas A-4 Skyhawk, Grumman's A-6 Intruder, which provided the Navy and Marines with an all-weather deep strike capability from Vietnam to Desert Storm, and the LTV A-7 Corsair II. The heavy attack aircraft, in the form of the Douglas A-3 Skywarrior and the North American A-5 Vigilante, are covered, not only in their original attack versions, but also in the later variants that performed other important missions for the Navy's carrier air wings. Lesser-known types, like the Vought AU-1 Corsair, the Martin AM Mauler, and the North American AJ Savage, are covered, as is the Douglas A2D Skyshark which never made it into operational service. The first truly successful S/VTOL aircraft, the British-designed Harrier, is also among the classic aircraft included in this publication.
In the 1980s, the multi-role F/A-18 Hornets began replacing the Navy's attack aircraft. By the mid-1990s, the A-6 Intruder and A-7 Corsair II became the last U. S. Navy attack aircraft to be retired. Today, the F/A-18E and F/A-18F Super Hornets have even replaced the fighter aircraft, with the last F-14 Tomcat having been retired in 2006. As this book is released in 2022, only one aircraft, the AV-8B Harrier II, continues to serve the Marines as the last specific-designed attack aircraft remaining in service, and it is in the process of being replaced by the F-35B Lightning II.
View All
Close