DML4632 1:144 Dragon PLA WZ-10 Attack Helicopter
SKU:

DML4632

UPC:

MPN:

Scale:

1/144
Frequently bought together:
Description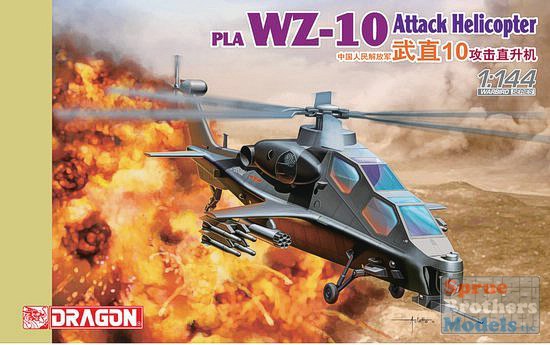 Features:
- Newly tooled WZ-10 rendered w/full detail
- Newly designed injection-molded rotor blades on rotor mast
- Nose-mounted electro-optical sight system installed
- Detailed pattern molded on bottom of fuselage
- One-piece fuselage molded w/stub wings
- Tandem cockpit made from transparent plastic
- Landing gear can be assembled in either flying or landing modes
- Rocket launchers, 2A72 30mm cannon and TY-90 air-to-air missiles included
Dragon caused quite a stir with the release of a kit depicting China?s avant-garde J-20 stealth fighter. Now another mysterious aircraft of the People?s Liberation Army (PLA) appears in Dragon?s 1/144 scale line-up. The new plastic kit is the WZ-10 attack helicopter. Weighing in at 7,000kg when combat-loaded, this helicopter has been developed indigenously by Changhe Aircraft Industries Corporation (CAIC). The tandem-seat rotary-winged design is a very important project for the PLA, and great secrecy still surrounds it. Its maiden flight took place in 2003, but the program has been plagued with difficulties, particularly in connection with its indigenously manufactured engines. The WZ-10 can carry HJ-10 anti-tank missiles, rocket pods, a chin-mounted 30mm 2A72 cannon and TY-90 air-to-air missiles on two hardpoints on each stub wing.
The WZ-10 is set to play a key role in the future of the PLA, and the care exhibited in Dragon?s kit reflects this. This carefully researched helicopter model arrives courtesy of completely new toolings for every single component in the box. A full combat load of weaponry (rockets, cannon and missiles) gives this attack helicopter a purposeful and deadly appearance. This finely detailed kit allows modelers to examine this Chinese design in far greater detail, and it also makes a fine comparison with the AH-64 Apache, Mi-24 and Mi-28 helicopter kits that Dragon has already released in the same scale. The WZ-10 is the face of the PLA?s future combat ? and now model-makers can see it face to face!
View All
Close