HAS08074 1:32 Hasegawa Nakajima Ki-84 Type 4 Fighter Hayate (Frank)
SKU:

HAS08074

UPC:

4967834088740

MPN:

8074

Scale:

1/32
Frequently bought together:
Description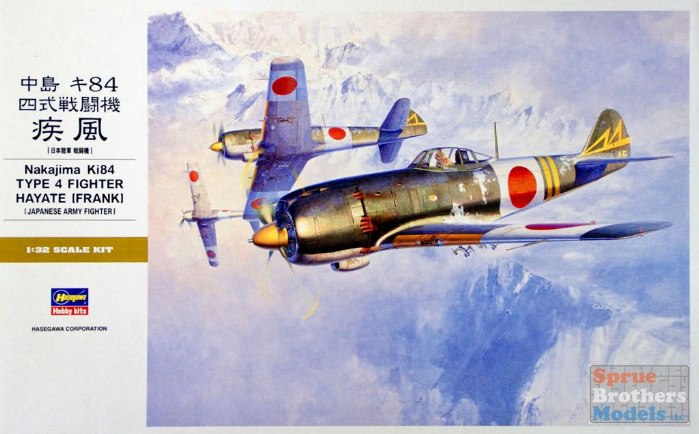 Includes approximately 161 parts.
The Nakajima Type 4 Hayate (Frank) as "The Greater East Asia Co-Prosperity Sphere Fighter" was put into heavy production and sent into all theaters of combat in the Far East, including China, the Philippines, Okinawa and the defence of the Japanese island at the end of March 1944. It was reported that the Hayate was so successful that it was able to seize temporary air superiority over China facing mainly P-40 and P-51 opposition. After the war, the Hayate was brought to the USA for testing and study, where it evaluated was to be "the best Japanese fighter aircraft of the war". The kit is easy assemble with completely new tool parts. Modeler can select open or close type of cowl flap, and also the engine details can be seen from the cowl flap as the authentic expression.
Markings included:
1) 47th Flight Regiment 3rd SQ. Narimasu Airfield Feb., 1945

2) 51st Flight Regiment Shimodate Airfield Feb., 1945 * 3) 101st Flight Regiment Fujieda Airbase 1945
View All
Close