LNRL4809 1:48 Great Wall Hobby TBD-1 Devastator VT-6 Wake Island
SKU:

LNRL4809

UPC:

6947917010095

MPN:

L4809

Scale:

1/48

Subject:

TBD Devastator
Frequently bought together:
Description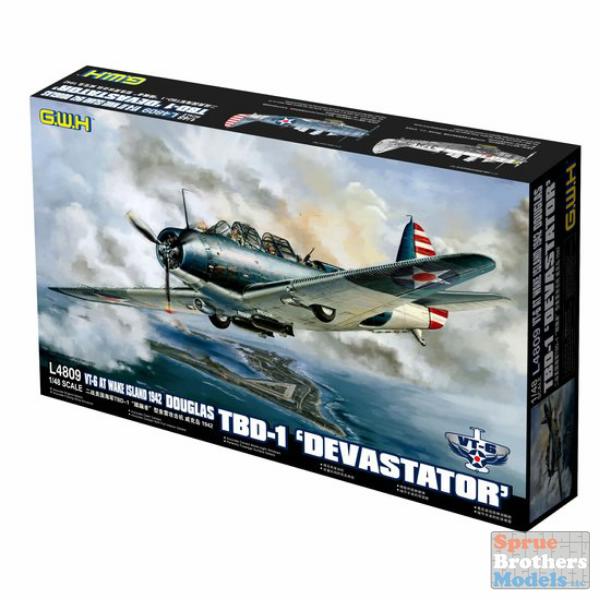 On Feb 1, 1942, the Douglas TBD-1 Devastator of VT-6 on US Navy CV-6 Enterprise attacked the port and IJN vessels in Kwajalein Island. Due to the reliability issues of the MK XIII torpedo, the attacks were not very successful. In the first action, an armed tug and several cargo vessels were sunk while no TBD-1 of VT-6 was shot down. Through the baptism of fire, especially the Pearl Harbor Attack, the US Navy learned what halfway action meant. VT-6 started the attacks again soon after they had returned to the carrier. With the armament changed to 500lb bombs, the second attack destroyed the airport and tank farm thoroughly.
On Feb 24, 1942, VT-6 on USN Enterprise attacked Wake Island which had just been occupied by the Japanese. The TBD was used as a level bomber during the raid. Its standard armament for bombing mission was two 500 pound bombs. On March 4th they also attacked Marcus Island. Two of the biggest actions were the raids against Lea and Salamaua in New Guinea.
Even though the performance of the TBD-1 in actual combat was below expectations, its meritorious services in several operations can not be ignored. By August 1944, no TBD-1 was left in the US Navy inventory. The last Devastator in the U.S. Navy was used by the Commander of Fleet Air Activities-West Coast until being scrapped in November 1944.
Specification:
‹¨«‹¨«‹¨« Length: 10.67 m
‹¨«‹¨«‹¨« Wingspan: 15.24 m
‹¨«‹¨«‹¨« Height: 4.59 m
‹¨«‹¨«‹¨« Empty weight: 2,804 kg
‹¨«‹¨«‹¨« Powerplant: 1 ?? Pratt & Whitney R-1830-64 Twin Wasp radial engine, 900 hp (672 kW)
‹¨«‹¨«‹¨« Maximum speed: 322 km/h
‹¨«‹¨«‹¨« Cruise speed: 128 mph (111 knots, 206 km/h)
‹¨«‹¨«‹¨« Service ceiling: 5,945 m
‹¨«‹¨«‹¨« Armament:
o 1 ?? forward-firing 0.30 in (7.62 mm) or 0.50 (12.7 mm) machine gun
o 1 ?? 0.30 in (7.62 mm) machine gun in rear cockpit
‹¨«‹¨«‹¨« Bombs:
o 2 ?? 500 lb (227 kg) bombs or incendiary bombs (VT-6, act as level bomber)
View All
Close