MNGMECHA002L Meng Evangelion Production Model-02 Multi-Purpose Humanoid Decisive Weapon, Artificial Human [Pre-Colored Edition]
SKU:

MNGMECHA002L

UPC:

4897038553549

MPN:

MECHA002L

Scale:

Not Specified
Frequently bought together:
Description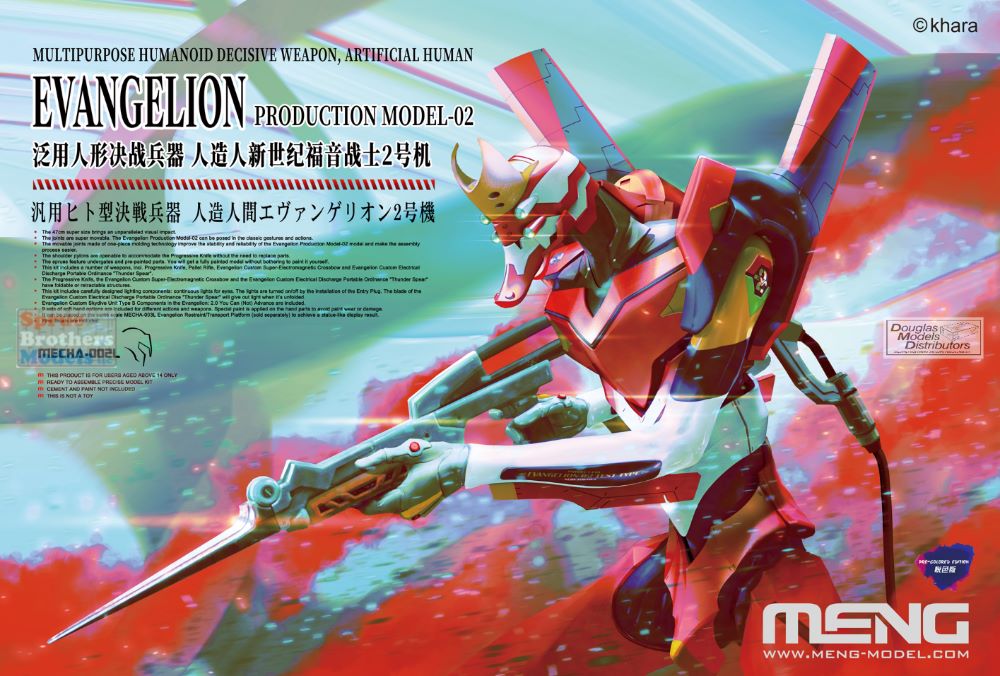 Multipurpose Humanoid Decisive Weapon, Artificial Human Evangelion Production Model-02 is the first Production Model Evangelion after the Evangelion Proto Type-00 and Unit-01 in the Evangelion: New Theatrical Edition movies. Its first pilot is the Captain Asuka Shikinami Langley. As a Production Model Evangelion, it has the common Evangelion features like generating A.T. Field. The enrichment of equipment and the maturity of each mechanism have greatly enhanced its performance. Its eye-catching appearance includes four eyes and two hornlike cheek extensions. It's in red color which is liked by its pilot Asuka.
KIT INFO
MECHA-002L Multipurpose Humanoid Decisive Weapon, Artificial Human Evangelion Production Model-02 is a large scale pre-painted model kit. This pre-colored edition kit features cement-free assembly and pre-painted parts. The movable joints made of one-piece molding technology improve the stability and reliability of the Evangelion Production Model-02 model. The joints are super movable. The Evangelion Production Model-02 can be posed in the classic gestures and actions. This kit includes carefully designed lighting components: continuous lights for eyes. The lights are turned on/off by the installation of the Entry Plug. This kit includes the Evangelion Custom Skydive Unit Type S Components in the Evangelion: 2.0 You Can (Not) Advance. The shoulder pylons are perfectly replicated to accommodate the Progressive Knives. You can transform and eject the Progressive Knife out without replacing any part. This kit includes various weapons, incl. two retractable Progressive Knives, one Evangelion Custom Electrical Discharge Portable Ordinance "Thunder Spear", two Pallet Rifles and one Evangelion Custom Super-Electromagnetic Crossbow which has a carefully designed lighting part. This kit also contains multi sets of soft hand options are included for different actions and weapons. Special paint is applied on the hand parts to avoid paint wear or damage. This kit includes fine decals.
Height: 500mm Width: 120mm
Fine decals are included.
For ages 14 and up
Cement and paint not included
This is NOT a toy.
View All
Close